Jalna
Dinner
GF Fish n Chips with Yoghurt Tartare
20mins + 30mins cooling for potatoes
Preparation Time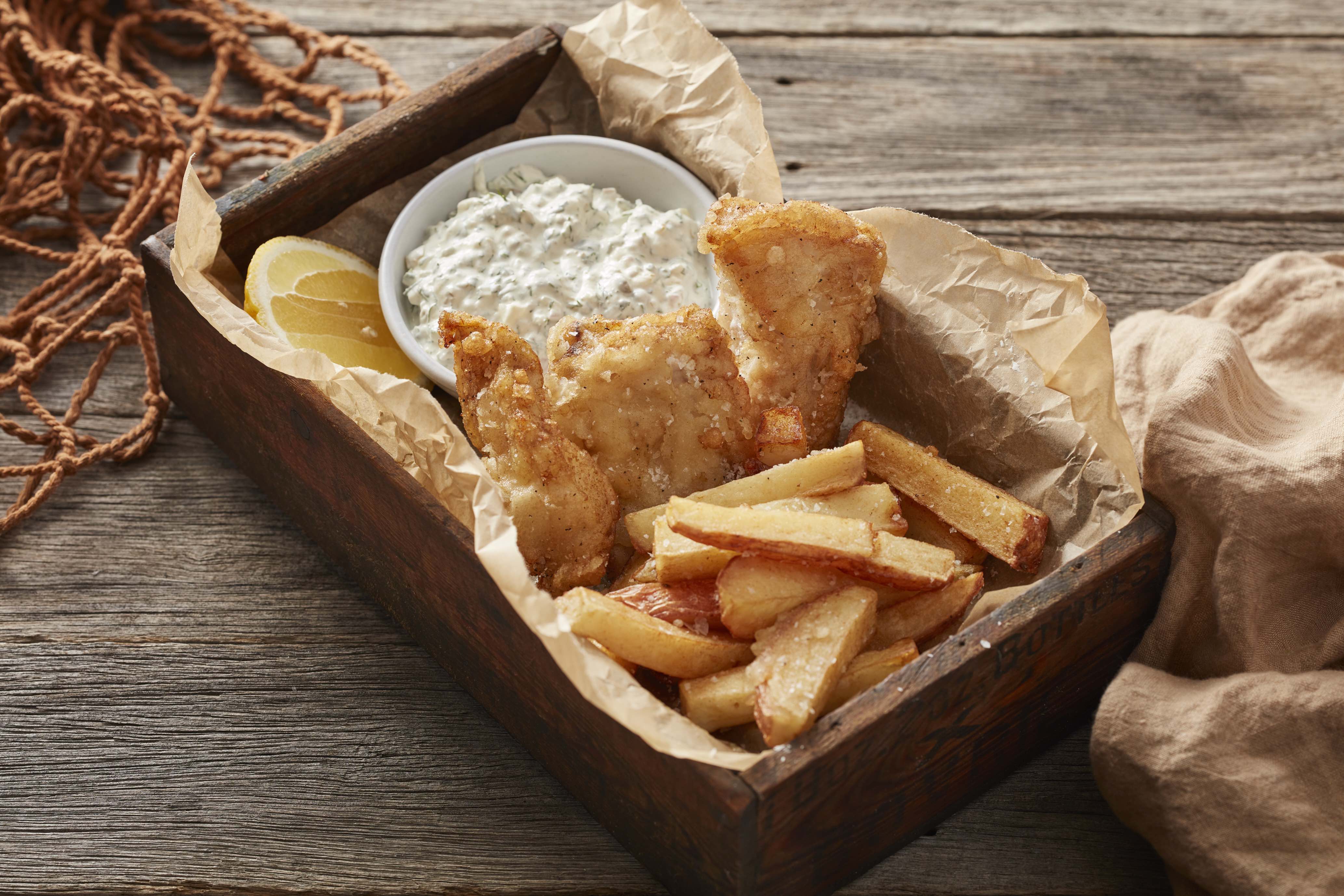 Ingredients
Battered Fish

4 Pieces of Pink Ling, cut in half lengthways
1 cup rice flour + extra for dusting
1 cup corn flour + extra for dusting
Sea Salt
1 cup soda water, ice cold
¼ cup GF beer or extra, ice cold
2tbs vodka
1tbs honey
1tbs vinegar
Chips
1kg Large Red Royal Potatoes, cut into large chips
Sea Salt
Yoghurt tartare
1 cup hung Jalna Greek Yoghurt
½ cup mayo
2tbs capers
2tbs dill pickles, diced
2tbs shallots, diced
½ bunch parsley
½ bunch tarragon, chopped
½ bunch dill, chopped
½ bunch chives, sliced
1tsp hot sauce
Method
Add the chips to a heavily salted pot of water. Bring to the boil and cook until the chips are just cooked through. Then strain and lay on paper towel. Allow the chips to cool in the fridge.
In a bowl combine all the tartare ingredients and mix. Keep chilled for serving.
In a deep fryer or a pot with oil heated to 130deg c add half the potatoes, cook for 5 minutes until the potatoes soften but take on no colour. Drain on paper towel and repeat the process with the remaining potatoes. Turn the oil up to 180deg c. And place another pot of oil on and heat to 180deg C for the fish.
In bowl mix the both flours and salt then add in the soda water, beer, vodka, honey and vinegar. Whisk until just combined. Place in the fridge for 15 minutes while the oil heats up.
Dust the fish in the flour. Dip the fish in the batter then place into the hot oil. Cook until the fish is golden brown and crispy. Drop the chips into the oil and cook until golden brown and crispy. Season the fish and chips with salt as soon as they come out of the oil.
Serve Fish and chips with a side of tartare sauce. lemon and malt vinegar.