Jalna
Lunch
Ham and Pineapple Pizza with Yoghurt Dough
10 minutes
Preparation Time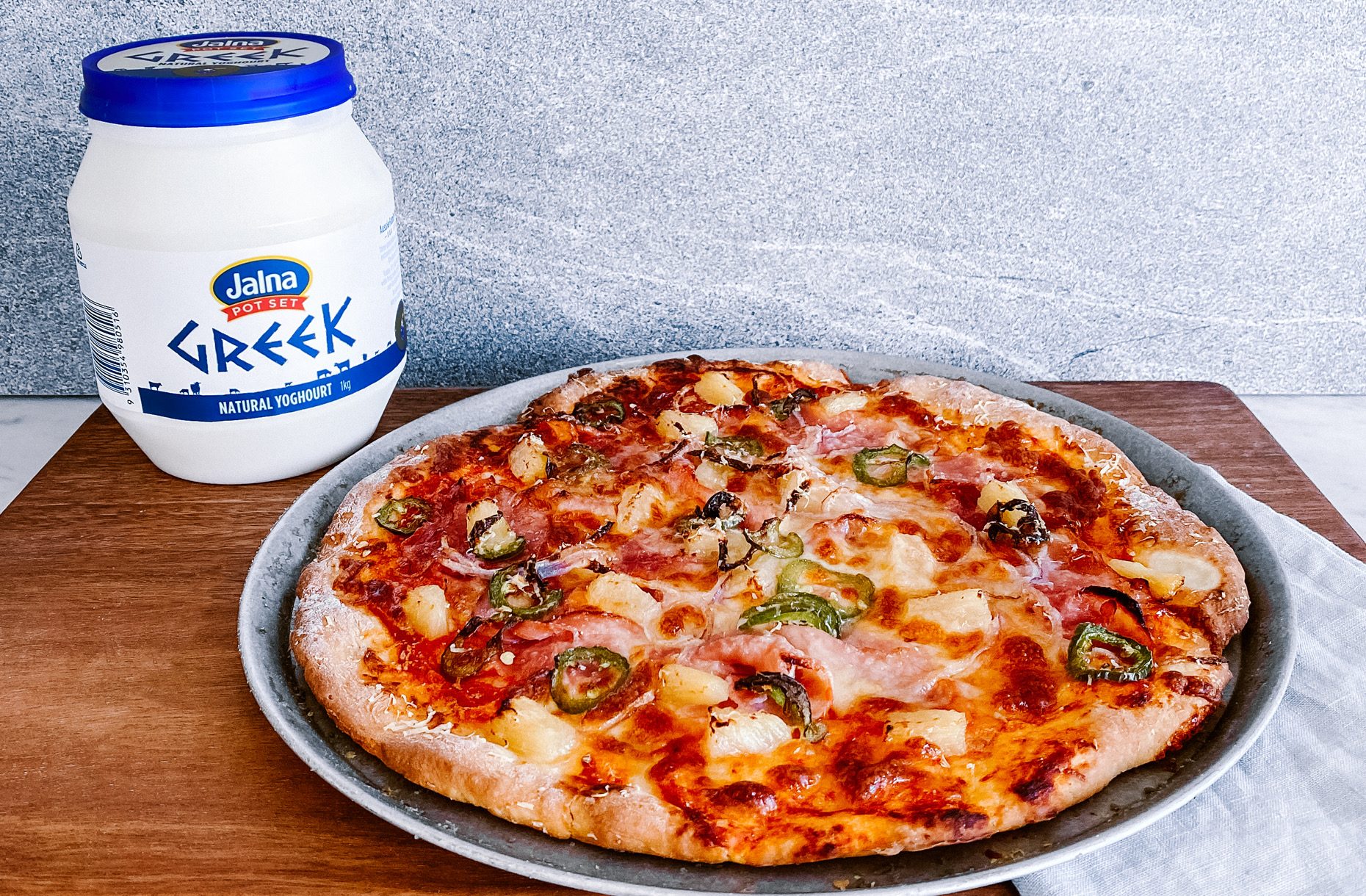 Ingredients
Pizza Dough

1 cup Jalna Greek Yoghurt
1 cup Self Raising Flour
Pint of Salt
Pizza Sauce
400g Passata
½ Brown Onion
2tbs Olive oil
pinch of Salt
Pizza Toppings
Mozzarella Cheese
Parmesan Cheese
5 Sliced of Smoked Leg Ham
¼ Pineapple, sliced thinly
1 Jalapeno, sliced
½ Red onion, sliced thinly
½ tsp coriander seeds, toasted
Method
Place the flour onto your work bench and make a well in the centre. Place the yoghurt in the centre slowly work into the flour with a fork until a rough dough forms. Knead the dough until it is smooth and soft. This should take around 5 minutes. Once the dough is made cover and leave to one side to relax.
Heat a sauce pan over a medium high heat, add some olive oil and the diced onion with a pinch of salt. Fry the onion off until it softens stirring regularly so the onion doesn't colour too much. Add the tomato and cook down for 8 - 10 minutes until the sauce thickens.
Pre-heat an oven to 240deg - Fan Grill
Roll the dough out to half a centimetre thick all over. Place on an oiled tray. Top the dough a layer of the tomato sauce, then the cheese, the ham, the slices of pineapple, the red onions and the slices of jalapeno. Sprinkle over the coriander seeds.
Place in oven and cook for 6 - 8 minutes until the base is crispy and the cheese is melted and golden. Slice and Serve!