Jalna
Breakfast
Za'atar Eggs with Yoghurt & Chilli Butter
5 minutes
Preparation Time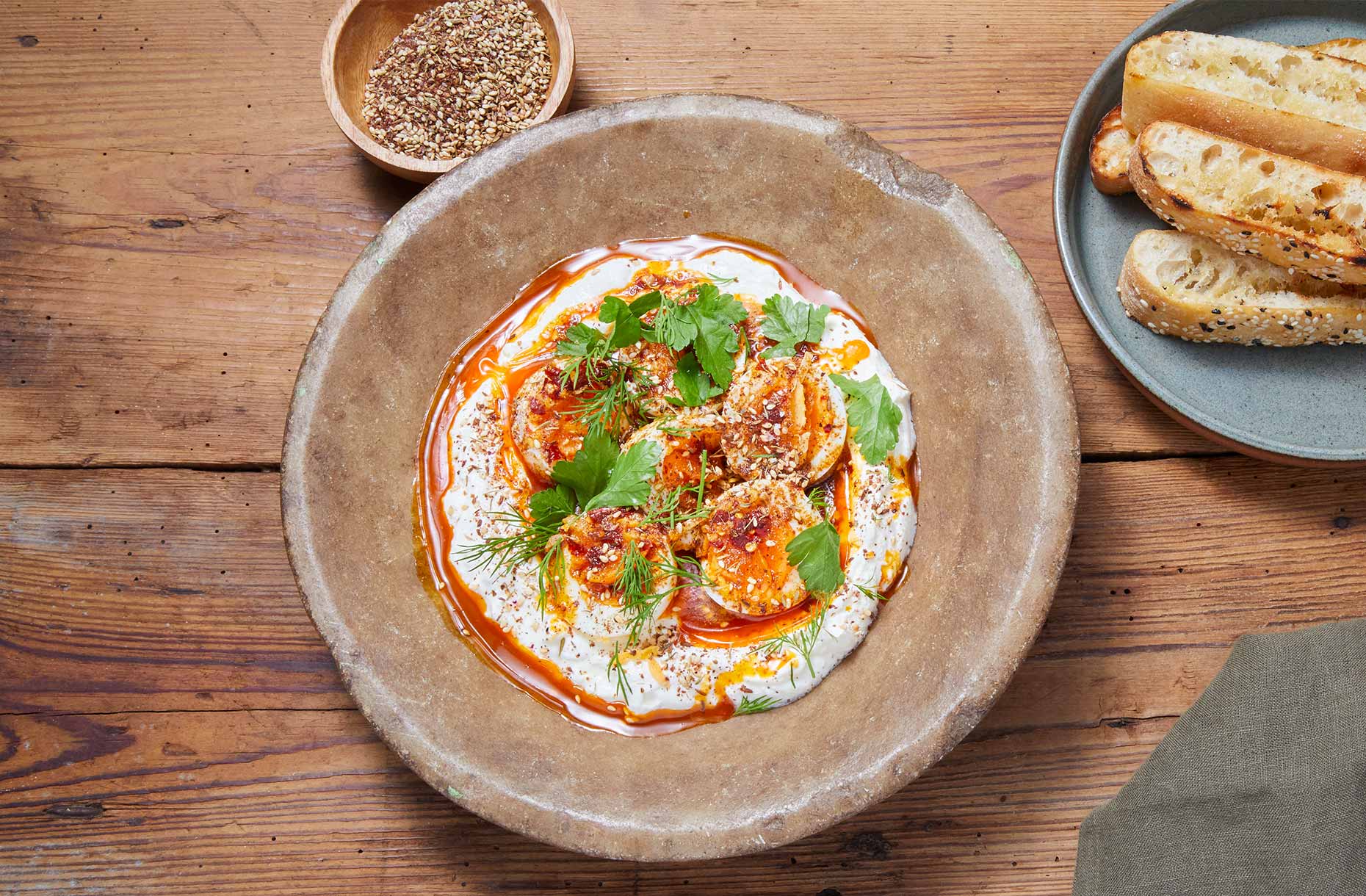 Ingredients
3 large free range eggs
1 cup Jalna Greek yoghurt
Sea salt and pepper to taste
2 tbsp extra virgin olive oil
1 clove garlic, minced
1 tsp dried chilli flakes
½ tsp sweet paprika
1 tbsp fresh flat leaf parsley, roughly chopped
1 tbsp fresh dill, picked
6 slices Turkish bread, toasted to serve
Za`atar
1 tbsp white sesame seeds
2 tsp whole cumin seeds
2 tsp ground sumac
1 tsp dried thyme
Method
To make the za`atar, toast the sesame seeds in a small frying pan over a medium heat until golden. Place them into a bowl then toast the cumin seeds for 45 seconds in the same pan, or until fragrant. Crush the cumin seeds in a mortar and pestle then mix into the sesame seeds along with the sumac, thyme, salt and pepper. Set aside.
Bring a pot of salted water up to a simmer and cook the eggs for 6.5 minutes, then plunge into a bowl of iced water to stop them cooking. Peel and set aside.
Heat oil and butter in a pan over a low-medium heat. Add in the garlic, chilli flakes and paprika and cook until the butter is infused and bright orange in colour.
To serve, spread the yoghurt onto the base of a serving plate. Add the eggs onto the yoghurt and carefully cut in half horizontally (do this over the yoghurt so any runny yolks add to the sauce). Spoon the chilli butter mixture over the yoghurt and then scatter with za`atar, parsley and dill. Serve with toasted Turkish bread.

Note:

*A twist on the classic Turkish eggs that are served as poached eggs in warm yoghurt for breakfast.