Jalna
Desserts
Tropical Fruit & Yoghurt Semifreddo
20 minutes
Preparation Time
12 Hours Freezing Time
Cooking Time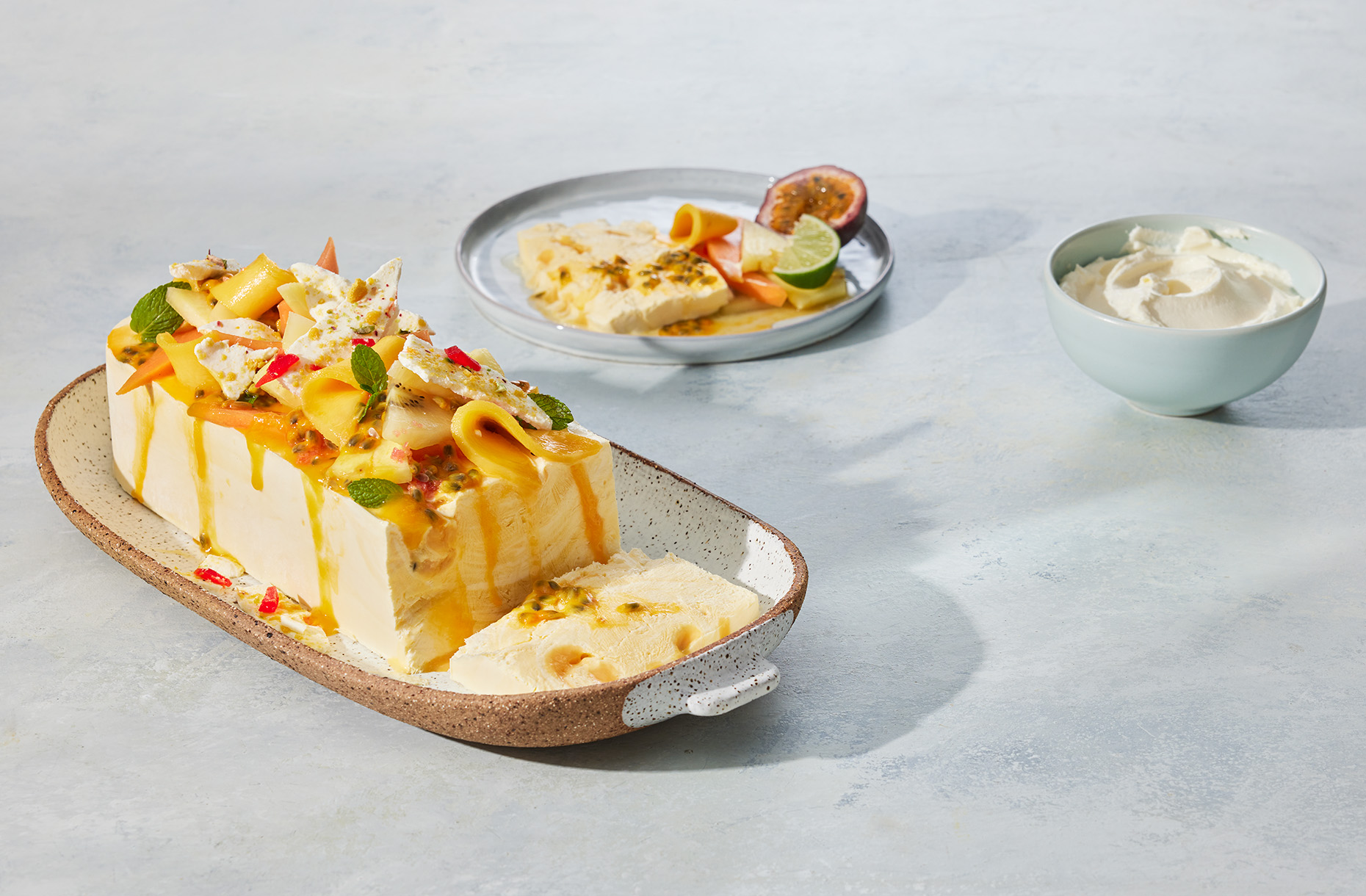 Ingredients
Semifreddo

500g mango (fresh or frozen)
1 cup icing sugar, divided
3 cups Jalna Greek Yoghurt
600ml thickened cream
250g jar passionfruit or lemon curd
Selection of tropical fruits to decorate (mango, pineapple, golden kiwifruit, papaya)
Fresh mint to garnish
½ cup fresh passionfruit pulp, to drizzle
Yoghurt bark*, to decorate - optional
Yoghurt Bark
1 cup Jalna Greek Yoghurt
2 Tbsp honey
1 tsp vanilla extract
15g freeze dried mango powder
1 Tbsp chopped dried papaya
1 Tbsp chopped pistachios
Method
Semifreddo

Line a 1.5lt loaf tin with clingfilm. Chill in freezer until needed.
Puree the mango with 2/3 cup of icing sugar until smooth. Add yoghurt and mix until smooth.
Whip cream and remaining 1/3 cup icing sugar until thick. Fold through the mango yoghurt mixture.
Pour half of the mixture into the prepared tin. Dollop over half the passionfruit curd and swirl with a wooden skewer. Spoon over the remaining yoghurt mixture and remaining curd. Swirl the curd through the mixture with the skewer. Cover with clingfilm and freeze for 12 hours or overnight.
To serve, turn out onto a platter, decorate with fruit, drizzle over passionfruit and garnish with fresh mint leaves and yoghurt bark.
Yoghurt Bark

Line a baking tray with baking paper.
Place yoghurt, honey and vanilla in a bowl and mix to combine.
Spread the mixture onto the baking paper, sprinkle over mango powder, papaya and pistachios.
Freeze for 4 hours or overnight.
Break into shards and store in freezer until ready to use.