Jalna
Desserts
Yoghurt & White Chocolate Panna Cotta
20 minutes
Preparation Time
5 minutes + 6 hours to chill
Cooking Time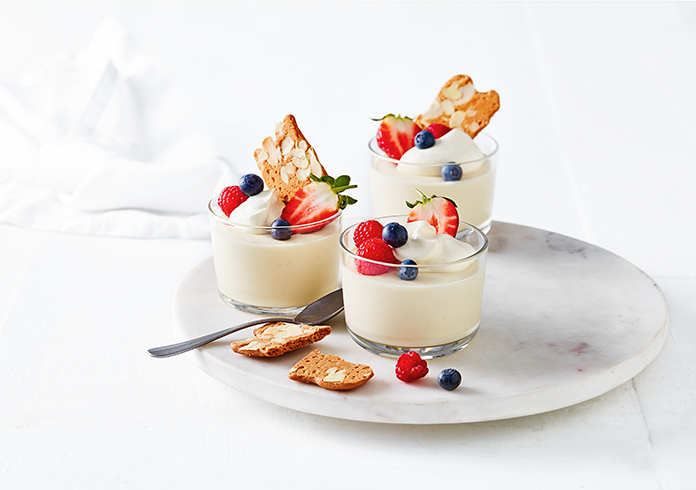 Ingredients
270g white chocolate, chopped
300ml pouring (pure) cream
¼ cup (55g) caster sugar
1 tsp vanilla bean paste
2 tbs boiling water
2½ tsp gelatine powder
2½ cups (700g) Jalna Farm to Pot Organic Honey Yoghurt
Mixed berries, to serve
Almond biscuits, broken, to serve
Method
Combine chocolate, cream, sugar and vanilla in a saucepan over low heat. Cook, stirring, for 5 mins or until the chocolate melts and the mixture is smooth and heated through.
Place the boiling water in a small heatproof bowl. Sprinkle over the gelatine. Stir until gelatine completely dissolves. Add gelatine mixture to the cream mixture and stir to combine. Set aside for 15 mins to cool slightly.
Add 500g of the yoghurt to the cream mixture in the pan and whisk until smooth and well combined. Spoon yoghurt mixture into eight 200ml serving glasses. Cover loosely with plastic wrap and place in the fridge for 6 hours or until set.
Whisk the remaining yoghurt until smooth. Top each panna cotta with a dollop of yoghurt, mixed berries and biscuit to serve.