Jalna
Dinner
Chicken Curry with Asian Greens
40 minutes
Preparation Time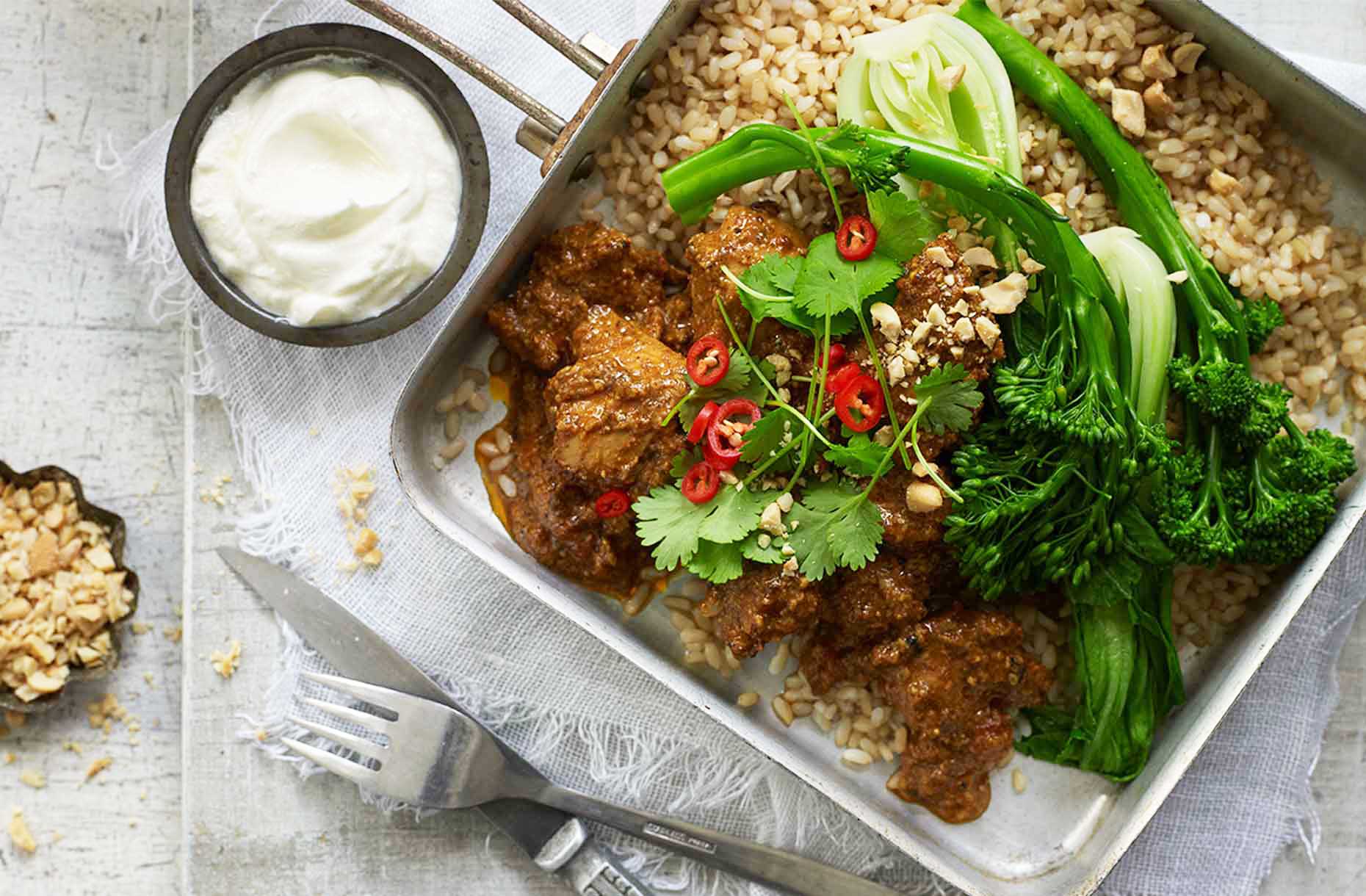 Ingredients
For the marinade

3 cloves of garlic
1 tablespoon ground cinnamon
1 tablespoon ground turmeric
½ tsp ground cardamom
1 brown onion chopped
1 tablespoon fresh ginger chopped
2 tsp garam masala
½ cup unsalted roasted cashews plus extra to garnish
1 cup Jalna Sweet & Creamy Coconut yoghurt/or Jalna Natural Greek yoghurt plus extra to garnish with
2 tsp sea salt flakes
For the Chicken
1 kg chicken thigh fillets, boneless, skinless, fat trimmed cut into 4cm pieces
¼ cup extra virgin olive oil
400g can chopped tomatoes
2 ½ cups coconut water
2 cinnamon sticks
½ cup fresh coriander leaves
1 red chilli thinly sliced to garnish
Steamed green vegetables to serve
Steamed brown rice to serve
Method
Place the garlic, ground cinnamon, cardamom, ginger, garam masala, cashews, yoghourt & salt in a food processor & process till a smooth paste.
Place the marinade & chicken in a large bowl, mix to combine. Cover & refrigerate for 30 minutes to marinate.
Heat 1 tablespoon of the oil in a large saucepan over high heat. Add a third of the chicken, reserving the marinade & cook for 2-3 minutes each side, or till slightly charred. Set aside & repeat twice more with remaining oil & chicken.
Reduce heat to low, return chicken to pan, add the reserved marinade, tomato, coconut water & cinnamon.
Cook stirring occasionally for 25-30 minutes, or until the chicken is cooked through.
Serve with the steamed rice & greens & garnish with a generous dollop of yoghurt, coriander & roughly chopped cashews.