Jalna
Dinner
Kale & Fig Tart with Quinoa Crust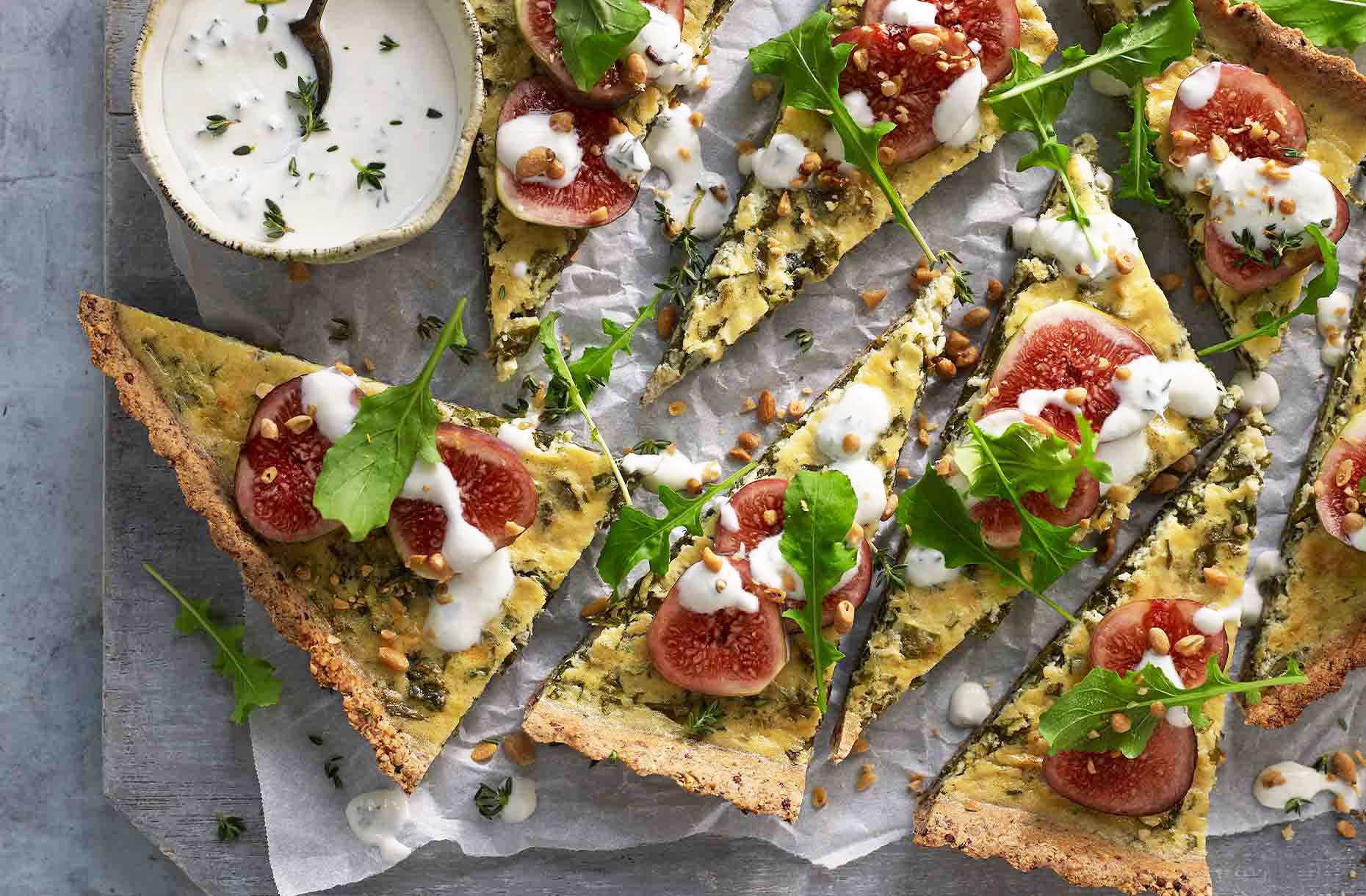 Ingredients
¾ cup tri coloured quinoa rinsed
¾ cup finely grated parmesan cheese
1 ½ cups almonds
2 tablespoons dukkah
1 tablespoon extra virgin olive oil
1 egg
Tart filling
3 eggs
1 garlic clove
¼ tsp salt
3 cups firmly packed chopped kale
1 cup water
¾ cup grated parmesan cheese
1 tablespoon Dijon mustard
1 cup Jalna Natural Greek yoghurt
Yoghurt dressing
½ cup Jalna Natural Greek yoghurt
1 tsp honey
2 tsp chopped oregano or thyme
½ garlic clove crushed
To garnish
4 figs
½ cup rocket
¼ cup toasted pine nuts or pistachios
Yoghurt dressing
Method
Cook quinoa in a pot of boiling water for 12 minutes or until tender. Drain well & cool.
Preheat oven to 160°C.
In a food processor, process quinoa, parmesan, almonds, dukkah, oil & egg process scraping down the sides occasionally, for 3-4 minutes till mixture is fne & comes together. Press mixture into the base of a lightly greased 11cm by 35cm loose bottomed rectangular tart tin. Refrigerate 20-30 minutes till firm.
Prick base with a fork. Cook in oven for 15 minutes, or until light golden.
Yoghurt dressing: Place all ingredients in a bowl. Whisk together to combine.
Heat a frying pan on a medium heat. Add oil. Cook garlic for 30 seconds. Add kale, cook, stirring, for 30 seconds. Add the water, cook covered for 3 minutes. Remove from heat. Stand covered for one minute. Then cool & drain away any excess liquid.
Whisk to combine in a medium bowl with eggs, salt, parmesan cheese, mustard & yoghurt. Add kale mix.
Spread mixture evenly into tart shell.
Bake tart for 25-30 minutes, or until filling is set.
Serve tart with sliced fig, rocket leaves & nuts. Drizzle with yoghurt dressing.