Jalna
Dinner
Lamb and Feta Meatballs with Herbed Yoghurt
20 mins + 12 hours hang time
Preparation Time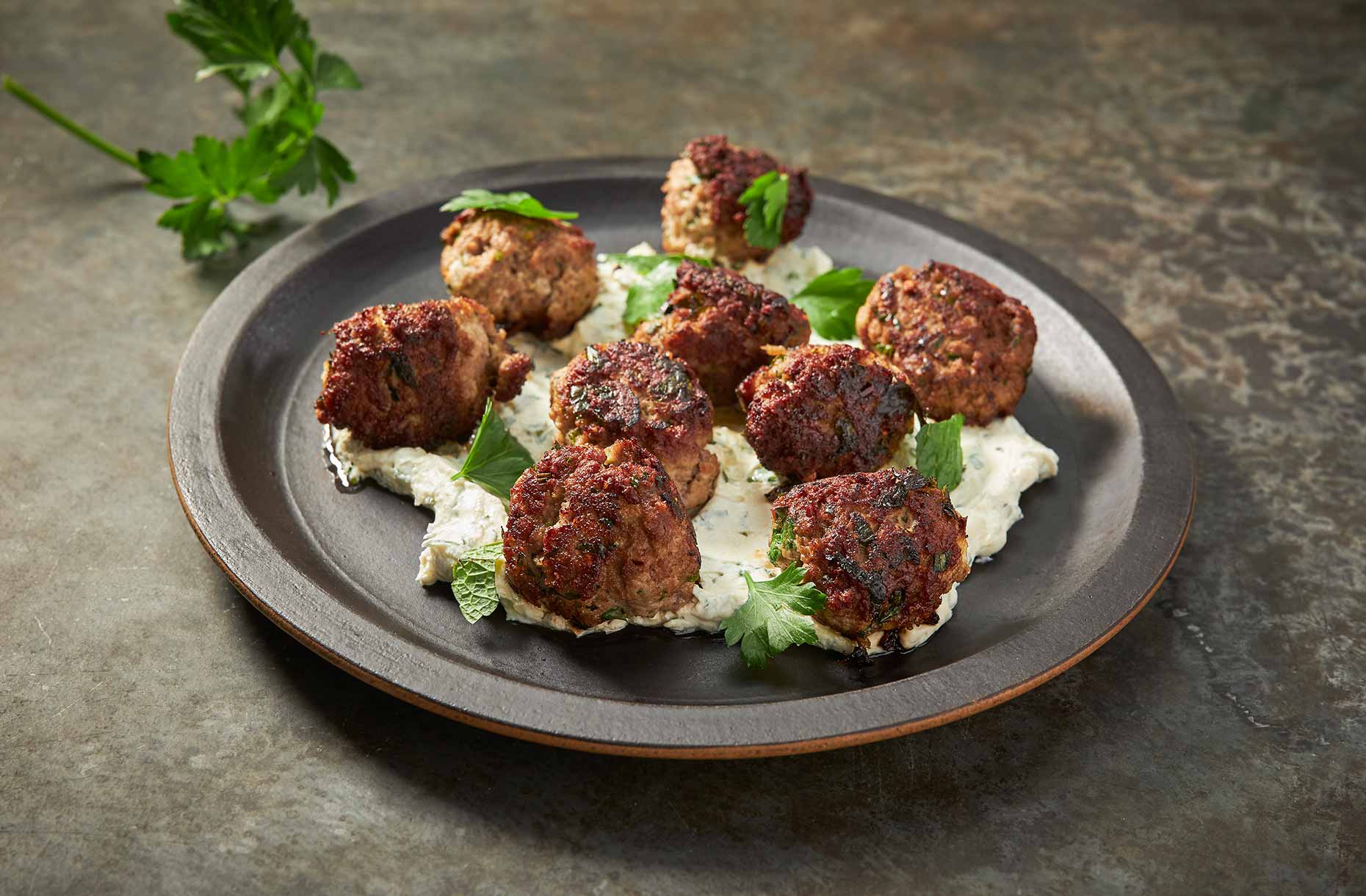 Ingredients
Labne

2 cups Jalna Greek yoghurt
1 bunch mint, chopped
½ bunch parsley, chopped
2 garlic cloves, grated
Meatballs
5oo g lamb mince
75 g crumbled feta
2 tbs breadcrumbs
½ bunch parsley, chopped
½ tsp chilli flakes
extra virgin olive oil
sea salt
Garnish
picked mint
lemon wedges
Method
Labne

Set a sieve over a large bowl ensuring there is a few inches between the bottom of the bowl and the sieve. Line the sieve with a fine mesh cheesecloth or a clean chux cloth. Mix a little salt into the pot of yoghurt and then spoon all the yoghurt into the cloth. Pull the outside of the cloth over the top of the yoghurt to cover. Place a small plate on top of the cloth to slightly weigh it down and place into the fridge overnight or for at least 12 - 18 hours, but ideally for up to 48 hours.
Meatballs

In a large bowl with a wooden spoon mix the lamb mince, feta, breadcrumbs, garlic, chili flakes and parsley until it's all combined.
Preheat a pan with a drizzle of extra virgin olive oil. Roll the mixture into golf-sized balls and put on to the heat until they are golden and cooked through.
To make the herbed yoghurt, in a separate bowl, add the yoghurt, parsley and mint. Mix through then add in the lemon juice and extra virgin olive oil.
To serve, lather the herbed yoghurt on the base of a large flat plate and place the meatballs on top. Garnish with lemon and mint.