Jalna
Dinner
Lamb Burger with Homemade Pita and Yoghurt dressing
20 minutes
Preparation Time
10 - 15 minutes plus proving time for the pita dough
Cooking Time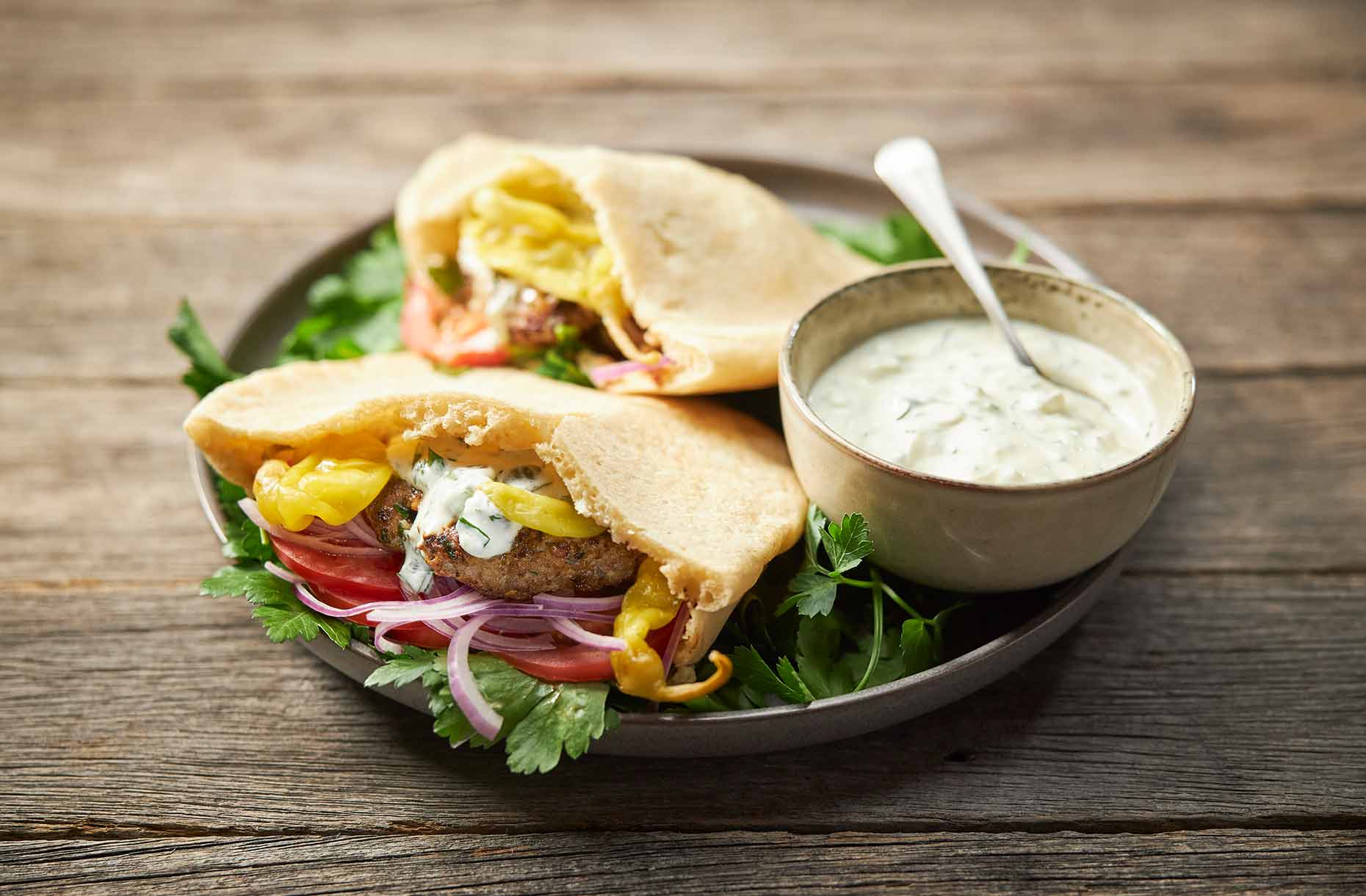 Ingredients
Pita

1 cup warm water
1 sachet instant yeast
1 tbs olive oil
1 pinch of salt
1 ½ cup plain flour
½ cup wholemeal flour
Lamb Burgers
500 g Lamb mince
1 onion, diced finely
2 garlic cloves grated
¼ bunch parsley, chopped
2 tbs feta cheese
1 tbs raisins
1 tbs pine nuts
Yoghurt Dressing
½ cup yoghurt
1 garlic clove grated
1 dill pickle diced
¼ bunch of dill chopped
¼ bunch parsley chopped
Garnish
¼ bunch parsley, picked
1 tomato, sliced
1 red onion sliced
pickled green peppers
pickled turnips
Method
In a bowl combine the water, yeast and olive oil, mix together and leave for a minute for the yeast to start hydrating. Add the flour into the bowl and mix into a dough. Once formed into a dough. Cover with cling wrap and leave to prove and double in size. Once proved divide the dough into 4 piece and roll into balls. Place into a high sided tray, cover in foil and leave to prove for another 30 minutes.
Pre-heat an oven to 200 degrees (C). Add in a heave pan or cast-iron skillet. Once the dough has proved again roll out into 15cm disc of dough. To cook the pita, place on the pre-heated skillet and cook until the pita is puffed and brown on both sides. Repeat this process to cook all the pitas.
Add the burger ingredients into a large bowl, mix with your hands until all the ingredients are combined. Divide into 4 pieces and form 4 flat patties.
In a bowl mix the dressing ingredients together until combined.
Heat a griddle pan until it begins to smoke. Drizzle the burgers with a little extra virgin olive oil and place onto the griddle. Cook until charred on both sides and the meat is done to your liking.
Reheat the pitas quickly in the oven prior to serving. Cut the pitas open and fill with sauce, salad ingredients then slide in the patty and enjoy.