Jalna
Dinner
Mushroom & Thyme Flatbread Pizza
15 minutes
Preparation Time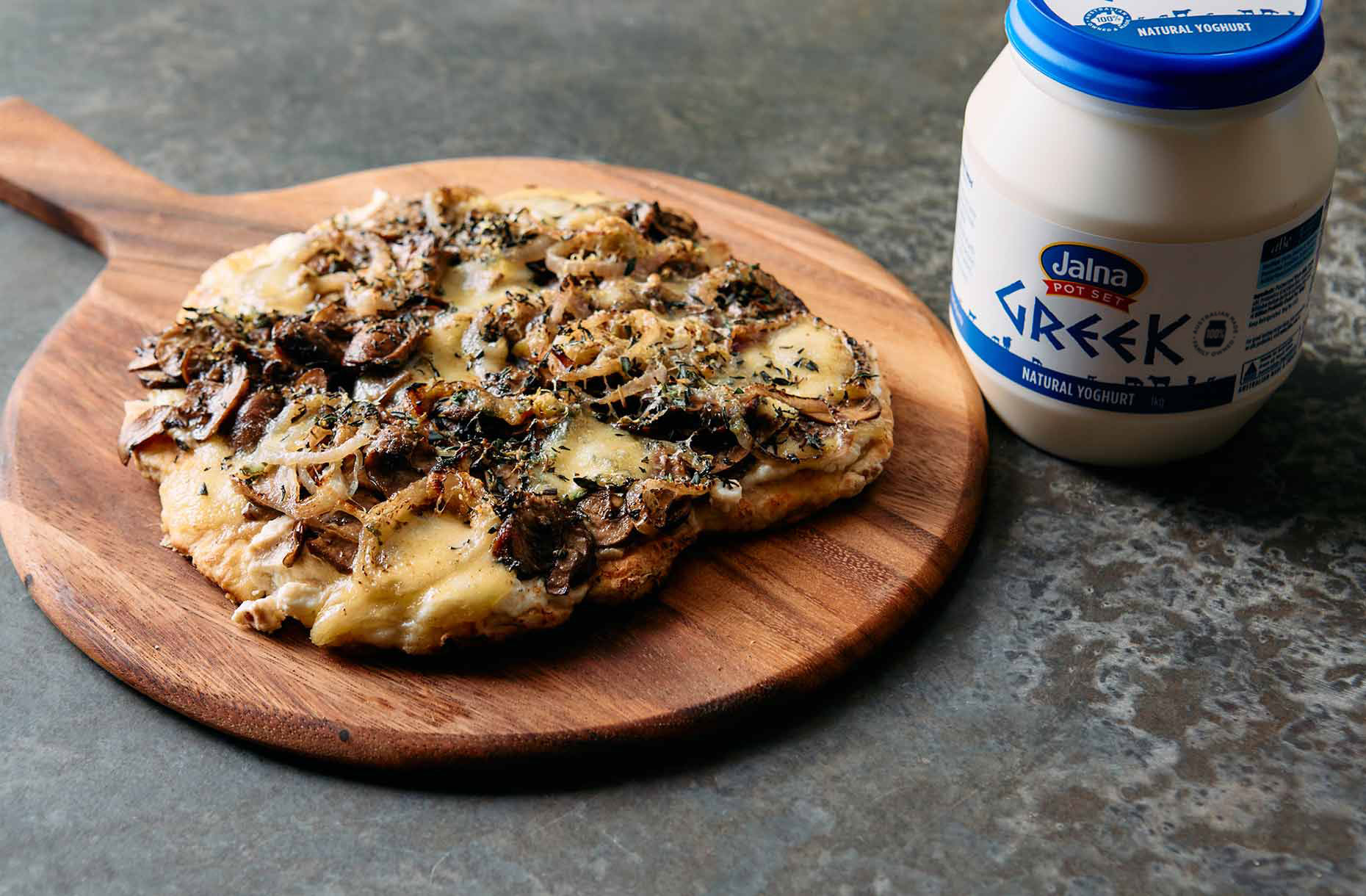 Ingredients
1 ½ cups self raising flour
½ teaspoon baking powder
200g Jalna Greek yoghurt
Sea salt and pepper to taste
¼ cup (60 ml) extra virgin olive oil
1 large red onion, peeled, sliced into rounds
2 large cloves garlic, crushed
4 cups Coles brown cup mushrooms, sliced
200g fresh ricotta cheese
1 x 200g tub fresh mozzarella or bocconcini cheese, drained, torn
40g Parmesan cheese, grated from a block
6 thyme, sprigs picked
1 lemon to serve
Method
Pre heat the oven to 220 degree C
Place flour and baking powder into a mixing bowl and make a well in the middle. Add in the yoghurt and a pinch of salt and using a spoon, work the yoghurt into the flour until it forms a smooth dough. Be careful not to overwork it. Divide the dough into 4 portions and roll each piece of dough out into a ½cm thick circle shape on a lightly floured board.
Heat a nonstick frying pan over a medium/high heat and cook the flat bread for 2-3 minutes each side, or until golden and puffy. Repeat with all flatbread then place them onto a lined oven tray.
Pace the same pan back onto a medium heat and add in 20ml of oil and cook the onion for 3-4 minutes, or until softened. Add in the garlic and a pinch of salt and pepper and cook for a further 2 minutes, or until fragrant. Remove the onions from the pan and set aside. Place the pan back onto the heat with 20ml of oil and add in the mushrooms. Cook the mushrooms for 3-4 minutes, or until soft. Season and remove from the heat
To assemble, spread the ricotta onto the base of the flatbreads. Top with the onion mixture and half of the mozzarella cheese. Scatter over the mushrooms, remaining mozzarella, Parmesan cheese and half of the thyme sprigs. Bake in the oven for 8 minutes, or until the cheese has melted and become golden in patches.
Remove from the oven and scatter with the remaining thyme, black pepper, lemon zest and drizzle with remaining oil. Slice into wedges before serving.