Jalna
Dinner
Quinoa Crusted Veggie Cakes with Horseradish Yoghurt
30 minutes
Preparation Time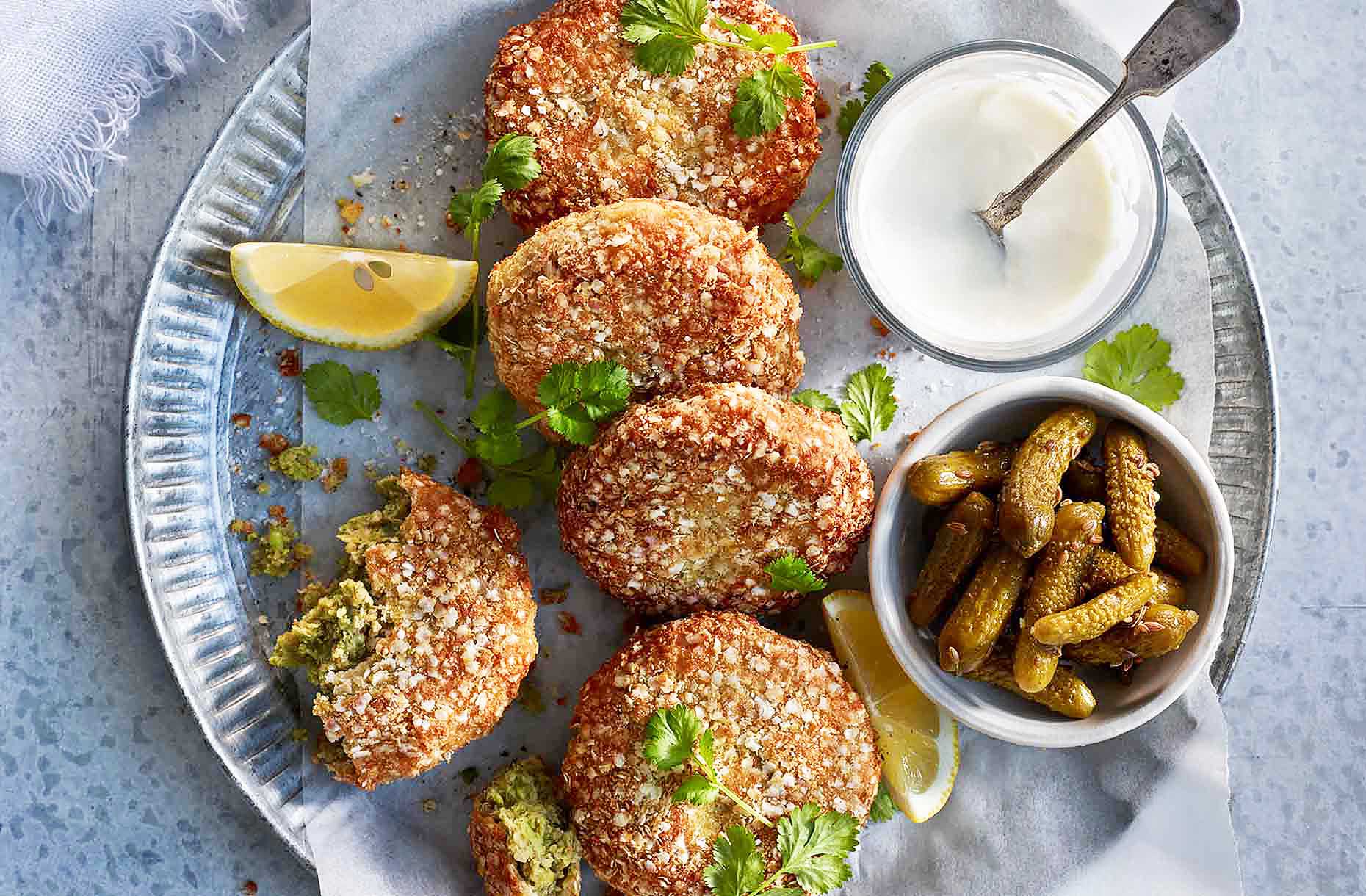 Ingredients
400g can cannellini beans, rinsed and drained
400g can chickpeas, rinsed and drained
1 cup coriander leaves
1 medium red chilli, seeded & coarsely chopped
1 clove garlic, crushed
1 egg, lightly beaten
1 tablespoon Jalna Greek Yoghurt
1 cup cooked amaranth or quinoa
1/3 cup (55g) edamame, blanched
1/3 cup (55g) green peas, blanched
1 green onion, finely sliced
Salt & cracked black pepper
Vegetable oil for frying or oil spray
Cornichons, lemon wedges and herbs to serve (optional)
Quinoa crust
1/3 cup (60g) lentil or quinoa flour
2 eggs, lightly beaten with 2 tablespoons Jalna Greek Yoghurt
1 1/2 cups (100g) quinoa flakes
Horseradish Yoghurt
1 cup (250g) Jalna Natural Greek Yoghurt
1½ tablespoons prepared horseradish, or to taste
1½ tablespoons lemon juice
Salt and cracked pepper, to taste
Method
Puree cannellini, chickpeas, coriander, chilli, garlic, egg and yoghurt in a food processor until coarsely mashed but mixture holds together. Place mixture in a large bowl and add amaranth or quinoa, edamame, green peas, green onion, salt and pepper.
Shape approximately 1/4 cup of mixture into balls and flatten slightly.
Dip into flour, dusting off excess, dip into egg & yoghurt mix, then roll in quinoa flakes. Shallow fry over a medium heat or spray fritters with oil and bake on a baking tray lined with baking paper in 220°C/200°C fan forced oven, for 20 minutes or until golden, turning halfway through. Serve with horseradish yoghurt, lemon wedges and herbs sprigs.
To make horseradish yoghurt:

Place all ingredients in a bowl & whisk to combine.

Note:

You can add other vegetables such as wilted kale, grated eggplant, zucchini or corn. Add chia seeds to quinoa flakes. Substitute horseradish with wasabi. Serve with your favourite garden salad or on its own as a delicious finger food or snack. To cook amaranth: Bring 1 cup water or stock & 1/3 cup amaranth to the boil. Reduce heat and simmer 15 minutes with lid on. Turn heat off and leave for 10 minutes, covered. Drain any excess liquid. Makes 1 cup.