Jalna
Dinner
Roast Carrots With Harissa & Yoghurt
10 minutes
Preparation Time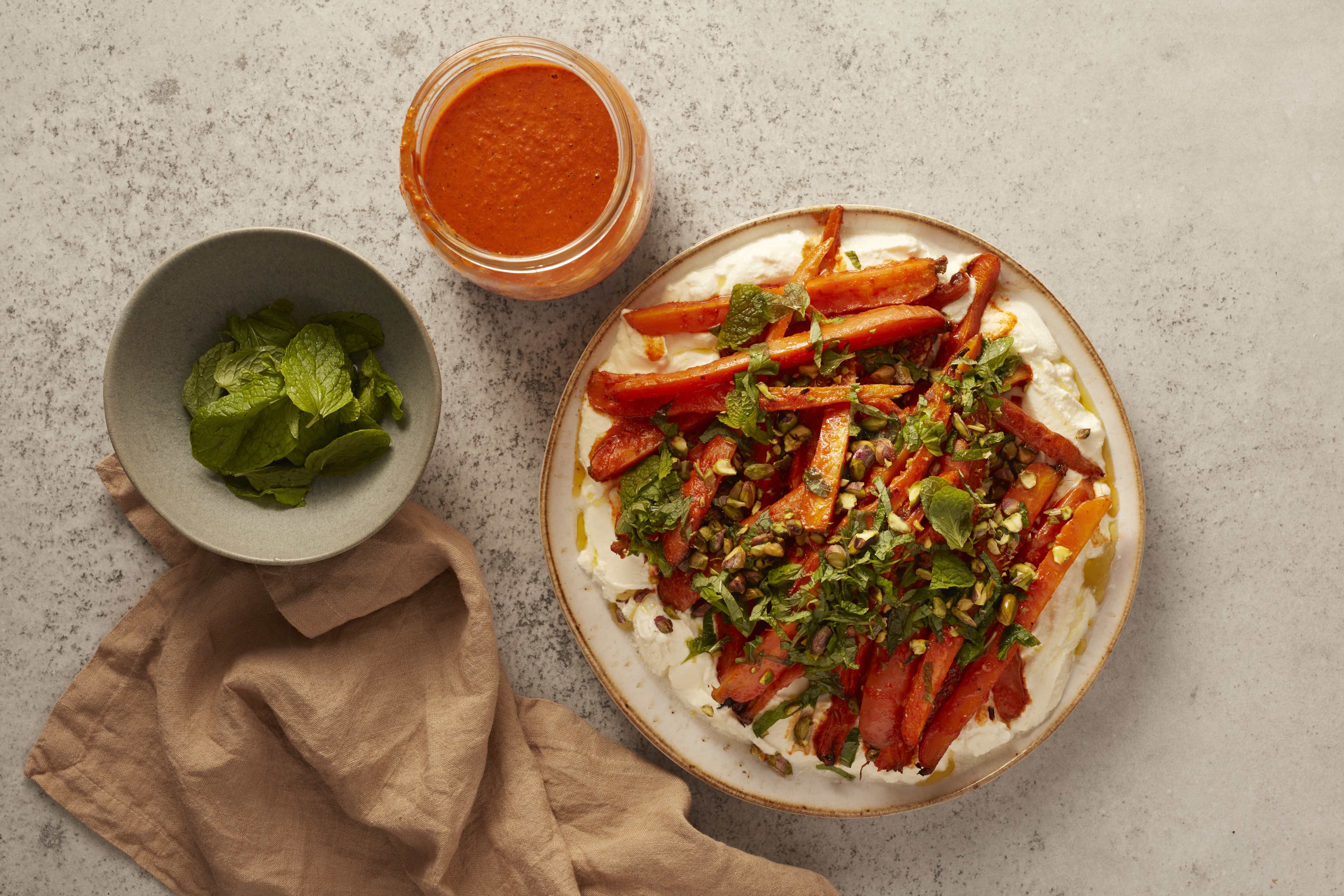 Ingredients
1kg bag carrots, sliced in chunks
1/3 cup (80ml) extra virgin olive oil
Sea salt to taste
2 cups (500g) Jalna Greek yoghurt
1/3 cup pistachio nuts, chopped
¼ bunch mint leaves, roughly chopped
¼ cup pomegranate seeds
Homemade Harissa
1 large red capsicum
6 large sized vine cherry tomatoes
2 teaspoons whole cumin seeds
1 teaspoons caraway seeds
4 long red chilies
3 cloves garlic, peeled
1 tablespoon tomato paste
1 tablespoon red wine vinegar
1 tablespoon maple syrup
Method
Heat the oven to 180 degrees. Toss the carrots with half the oil, salt and a splash of water. Roast for 40 minutes, or until soft and tender.
To make the harissa, Place the capsicum and tomatoes onto a cake rack over a gas flame. Let the skins blister and burn on all sides. Remove from the flame once softened and place into a bowl and cover with plastic wrap to steam for 10 minutes. Once steamed, peel the burnt skin off the tomatoes and clean the seeds out of the capsicum. Toast the seeds in a dry frying pan for 1 minute. Crush them in a mortar and pestle and set aside. Place the frying pan back onto a medium heat and add the remaining oil, garlic and chili. Cook for 2-3 minutes before adding in the spices, tomato paste, tomatoes, capsicum and salt. Cook for 5 minutes before adding in the vinegar and maple. Place the mixture into a high speed blender and blitz until smooth.
Remove carrots from the oven and spoon over ½ cup of the harissa and toss to coat.
To serve, spread the yoghurt onto the base of a serving platter. Top with the harissa carrots and garnish with pistachio nuts, chopped mint and pomegranate seeds.