Jalna
Dinner
Tandoori Chicken Skewers with Pickled Onions and Yoghurt Coriander Chutney
15 minutes
Preparation Time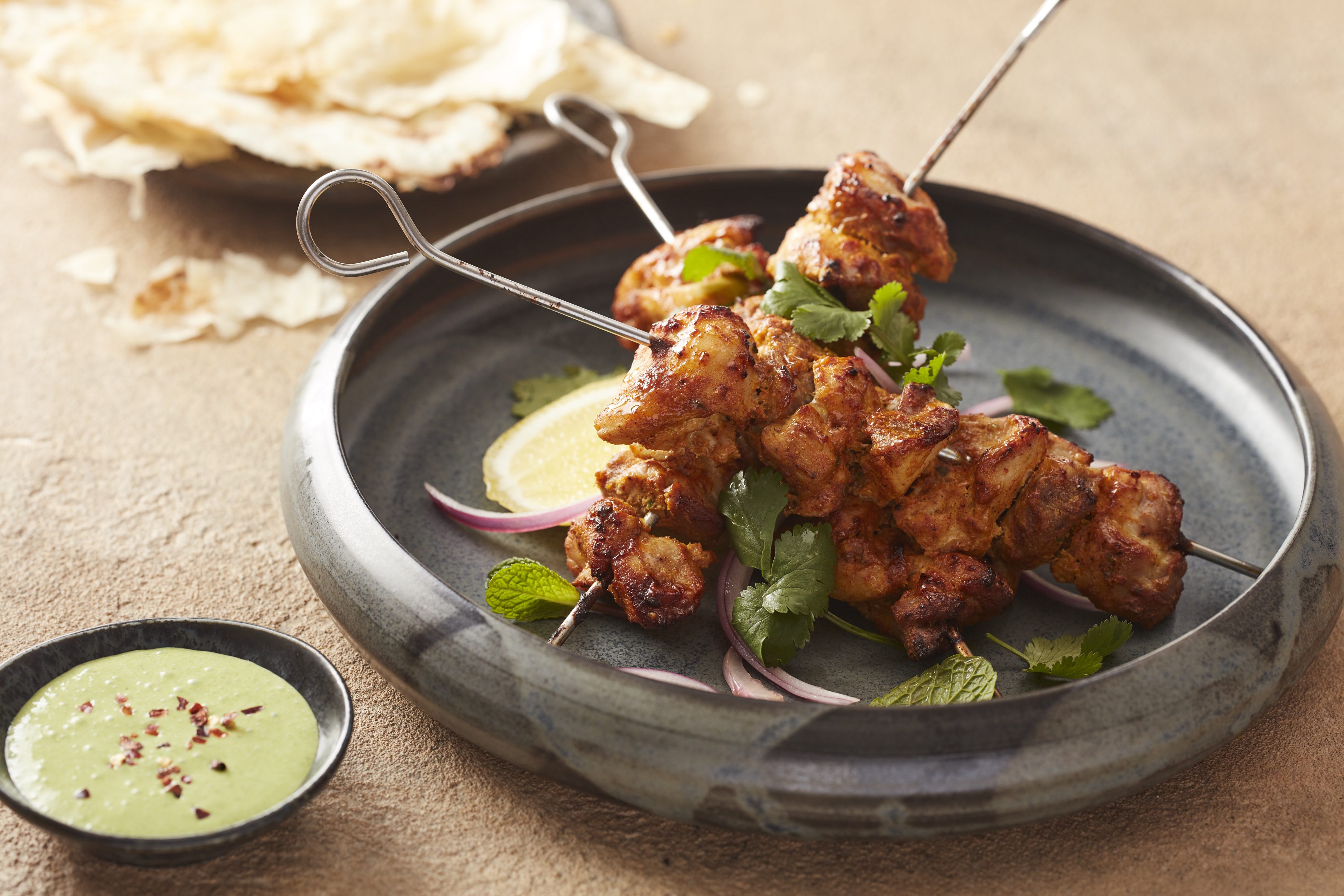 Ingredients
Marinade

500g chicken thigh, 4 cm chunks
1 small 170g tub of Jalna Greek Yogurt
1 tablespoon ginger paste
1 tablespoon garlic paste
1 teaspoon green chilli paste (fresh green chili blended or pounded in a mortar and pestle)
½ teaspoon turmeric powder
1 teaspoon red chilli powder
1 teaspoon Paprika
½ teaspoon garam masala powder
2 teaspoon mustard oil
½ teaspoon salt
Pickled onions
100 ml red wine vinegar
100 g sugar
1 red onion, ½ cm sliced rounds
Coriander chutney
1 bunch fresh coriander, stems
1 small 170g tub of Jalna Greek Yogurt
Squeeze lemon juice
Pinch salt
Method
For tandoori marinade, place all ingredients except chicken into a bowl and stir until combined. Add chicken and coat. Cover and marinade for a minimum of two hours. The longer the better, feel free to make the day before and leave to marinade overnight.
For pickled onions, place sugar and vinegar in a saucepan and bring to a simmer and allow sugar to dissolve. Take off heat and pour over sliced onions. Allow to sit until ready to serve.
For chutney, blend coriander, yoghurt and lemon until smooth.
Pop into the oven at 180 degrees for around 20 minutes or until cooked through. Top with fresh coriander leaves and serve.

Note:

For best results, chicken should be left to marinade for at least 2 hours, the longer the better!