Jalna
Dinner
Yoghurt Brined Fried Chicken
10-15 minutes
Preparation Time
20 mins + 30mins and 12hrs Marinating time
Cooking Time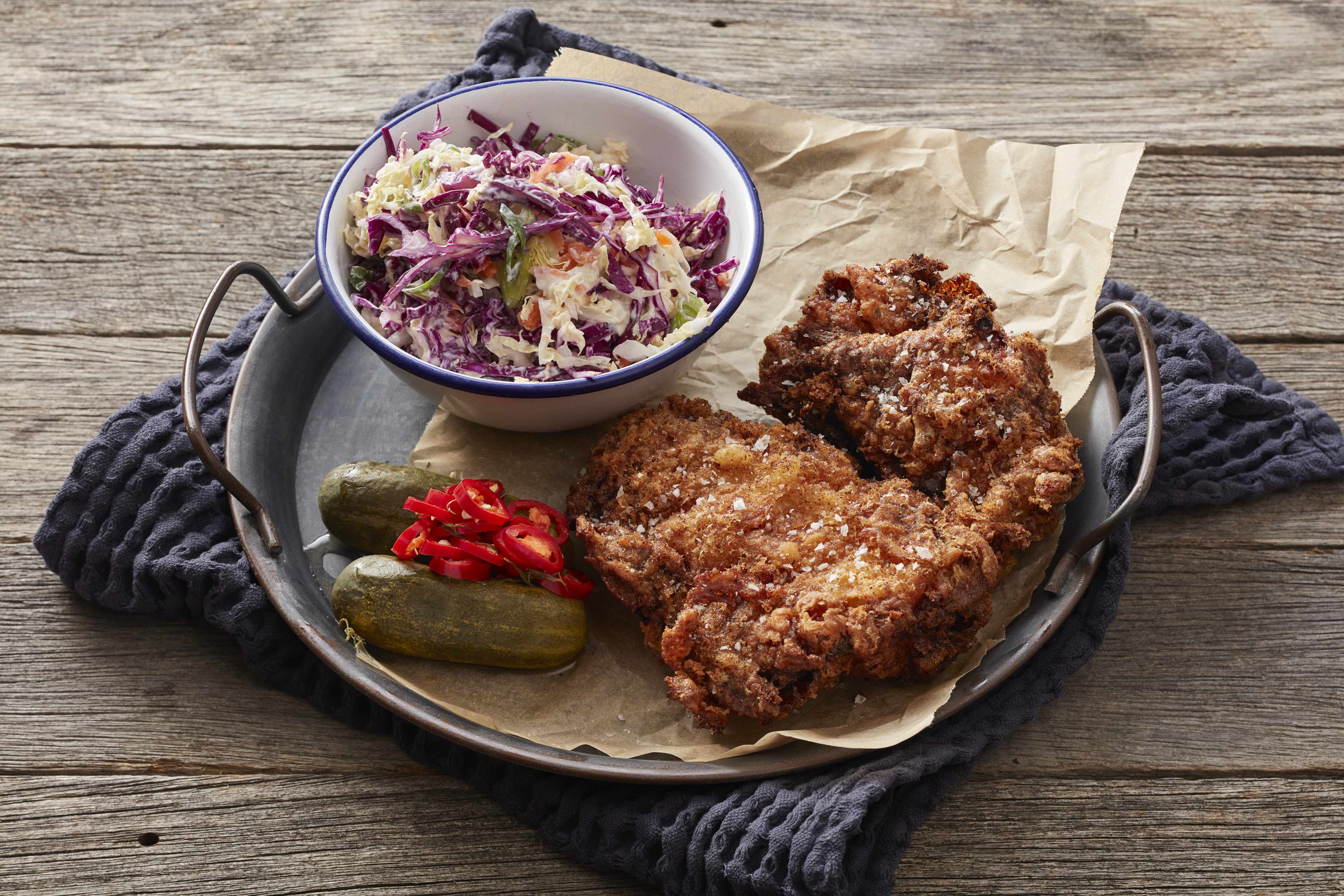 Ingredients
Chicken

1 1/2cups Jalna Greek Yoghurt
1 tbs cup Hot sauce
1/4 cup pickle juice
1tsp cayenne pepper
1kg Chicken thighs or 1 Whole chicken cut into 8 portions
Batter
1 cup Plain Flour
½ Corn Flour
1tsp garlic powder
1tsp onion powder
1tsp smoked paprika
1tsp cayenne pepper
1tsp sage powder
1tsp salt
1tsp black pepper
1cup soda water
1tbs vinegar
Oil for frying
Garnish
Pickles
Pickled chillies
Coleslaw
Hot sauce
Method
Add the yoghurt, hot sauce, pickle juice, cayenne, water and chicken into a large bowl. Mix together to coat the chicken in the yoghurt mixture. Leave for at least 30 minutes but up to 12 hours.
Heat a large sauce pan of oil to 180deg c.
In a large mixing bowl combine the flours, spices, salt and pepper, whisk together. Add the soda and vinegar and mix into a thick batter. Add ½ cup of the yoghurt brine from the chicken. Whisk into a batter.
Remove chicken from the brine and wipe off the excess. Add the chicken into the batter and coat. Drop the chicken into the oil and fry until the chicken is cooked through and the coating is golden brown and crispy!
Serve fried chicken with your favourite sides and a load of napkins!