Jalna
Sides
Salt & Vinegar Smashed Potatoes With Herb Yoghurt
10 minutes
Preparation Time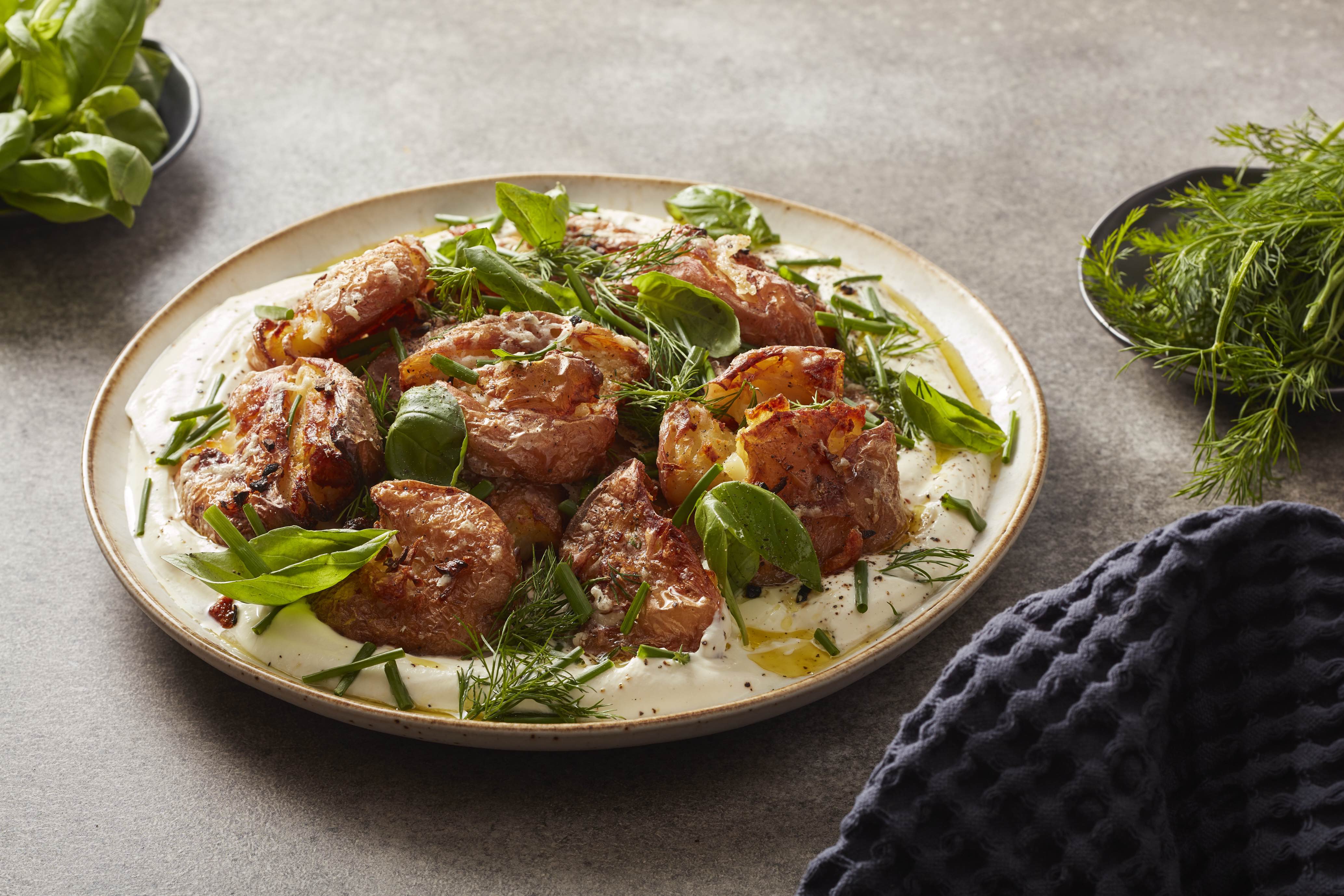 Ingredients
1.5kg Baby red royale potatoes
1cup vinegar (apple cider or white wine vinegar)
Sea salt & cracked black pepper to taste
2 cloves garlic, minced
1/3 cup squeaky gate extra virgin olive oil
25g Parmesan cheese, grated from a block on a microplane
¼ cup dill, sprigs picked
¼ cup Basil, leaves picked
¼ cup chives, finely chopped
2 cups Jalna Greek Yogurt
Method
Pre heat the oven to 200 degrees C
Place the potatoes in a pot with the vinegar and cover with cold water and a generous pinch of salt. Bring up to a gentle boil, and leave to simmer for around 15 minutes, or until tender. Drain and allow potatoes to cool slightly before placing them onto a large baking tray lined with paper
Using a flat bottomed cup measure, mug or a large metal spoon, smash the potatoes so they form some jagged edges and are flattened to around 1.5cm thick. Toss the potatoes with olive oil, garlic, sea salt, cracked pepper and spread out in a single layer.
Roast the potatoes for 25 - 30 minutes, or until golden brown. Remove from the oven and grate over the Parmesan cheese. Give the potatoes a shake around and place them back in the oven for a further 10 - 15 minutes.
Gently whisk the yoghurt in a bowl to make it a smooth texture. Spoon the yoghurt onto the base of a large serving platter. Place the potatoes onto the top of the yoghurt and scatter with dill, basil, chives and a little extra sea salt.