Jalna
Breakfast
Breakfast Nourish Bowl
35 minutes
Preparation Time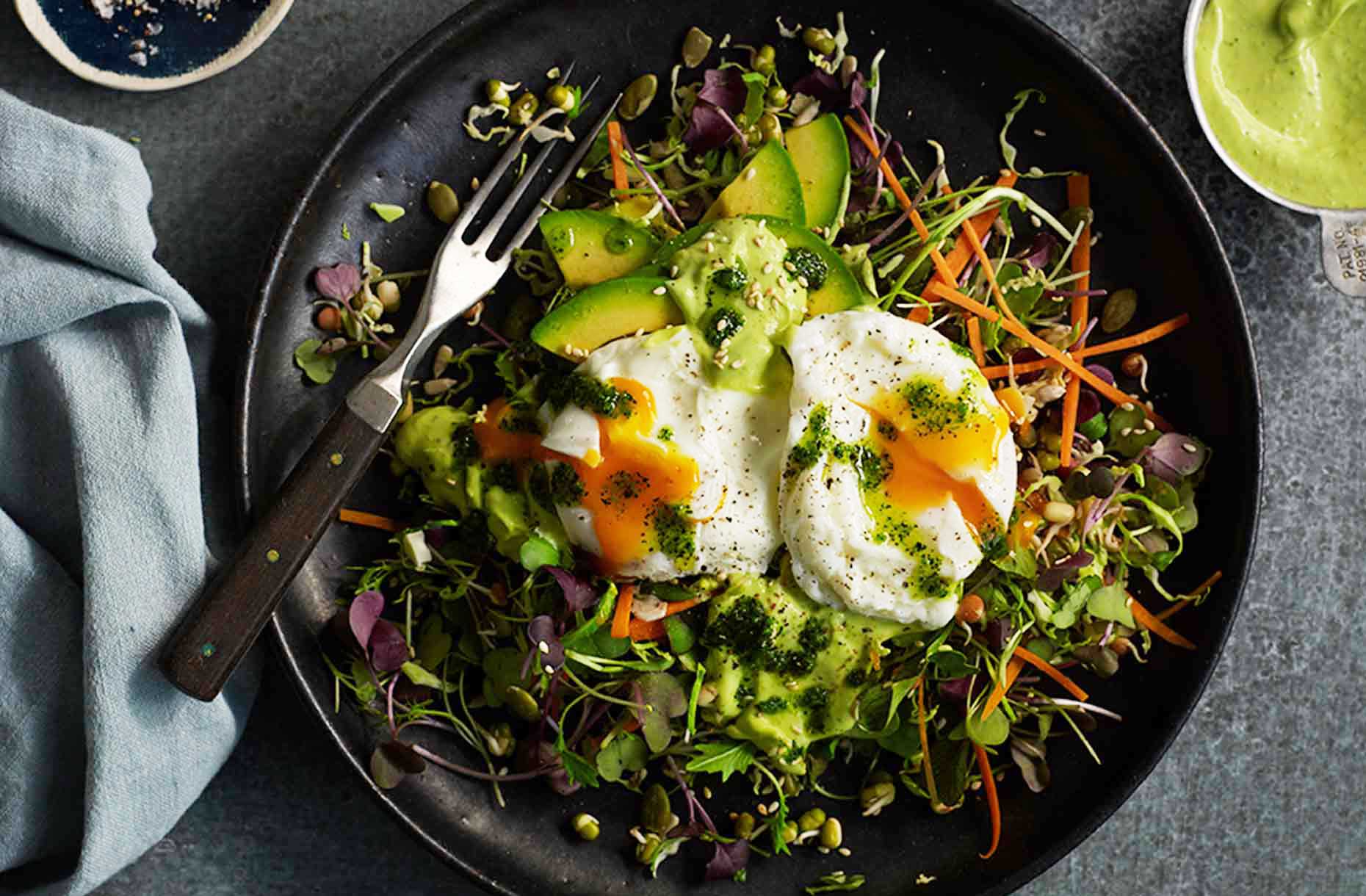 Ingredients
¾ cup firmly packed baby leaves (micro sorrel, parsley, coriander & radish leaves). Any salad leaves will work.
100g brussel sprouts thinly shaved, reserve a few leaves to garnish
1 cup crunchy sprout combo
1 small carrot julienned
2 tablespoons pumpkin seeds
2 tablespoons sunflower seeds
1 tsp sesame seeds
1 tablespoon white vinegar
4 eggs
½ avocado, sliced thinly
Kale pesto: makes ¾ cup
25g roasted almonds
25g roasted cashews
1 garlic clove crushed
1 cup baby kale leaves, roughly chopped
¼ cup extra virgin olive oil
10g finely grated parmesan
Salt & pepper to taste
Pulse nuts & garlic in a food processor until coarsely chopped. Add kale & oil, pulse till smooth paste. Add parmesan cheese & salt & pepper. Pulse until just combined.
Avocado yoghurt dressing: makes 1 cup
1x avocado, roughly chopped
¾ cup Jalna Natural Greek Yoghurt
¼ cup basil leaves
Juice of 1 small lemon
1 tablespoon olive oil
Place all ingredients in a food processor and pulse until smooth.
Method
Make kale pesto & avocado dressing. Place baby leaves, brussel sprouts, crunchy sprouts, carrot & seeds in a bowl. Toss to combine. Dress the salad with 3-4 tablespoons of the avocado & yoghurt dressing.
Poach eggs in a pot of water with the white vinegar. Gently break the eggs into the water. Cook for approx. 3 minutes, or until whites are set & yolk is still runny. Remove with a slotted spoon & drain on paper towel.
Divide salad between serving bowls, top with eggs & avocado. Drizzle with kale pesto & a little more of the avocado dressing.