Jalna
Breakfast
Savoury Scrolls with Spinach, Feta & Pine Nuts
1 hour 30 minutes
Preparation Time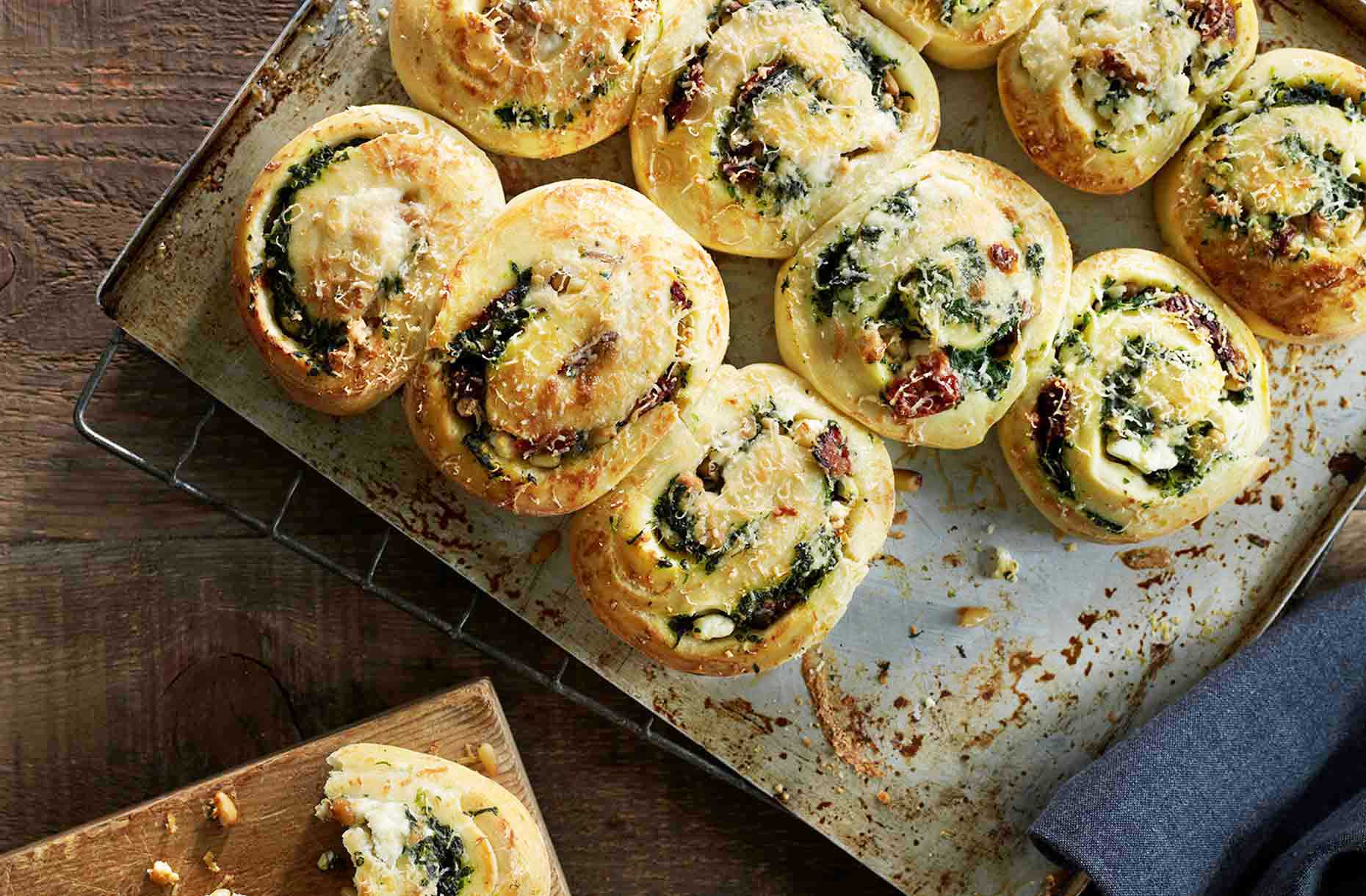 Ingredients
For the dough

4 ½ cups (675g) plain flour
1 ½ teaspoons salt
85g unsalted butter, at room temperature
1 1/3 cups (330ml) milk
1/3 cup (80ml) Jalna Sweet & Creamy Greek Yoghurt
1 egg, lightly beaten
2 teaspoons instant yeast
For the filling & topping
250g packet frozen spinach, thawed
200g feta cheese, crumbled
150g semi dried tomatoes in oil, drained, coarsely chopped
75g pine nuts, toasted
Oil, for greasing
1 egg, lightly beaten
1/3 cup (42g) freshly grated parmesan
Method
Combine flour and salt in a large bowl. Using your fingertips, rub in the butter until it resembles fine breadcrumbs.
Heat the milk in a small saucepan to scalding point. Pour into a separate bowl and whisk in the Jalna yoghurt, egg and yeast. Pour into the flour and mix with a round bladed knife using a cutting motion until it just comes together and forms a sticky dough. Cover the bowl with plastic wrap and leave to rise 1 hour.
Turn the dough onto a lightly floured surface and knead for a few seconds to knock any air out. Return it to the bowl, cover loosely and leave in a warm place for a further 15 minutes.
Roll the dough out on a floured surface to a rectangle about 40cm x 30cm. Use your hands to squeeze excess water from spinach. Scatter pastry with spinach, cheese, tomatoes and nuts. Starting from a long side, roll the dough firmly like a Swiss roll. Trim off untidy ends and cut into 18 pieces.
Preheat oven to 220°C/180°C fan forced. Lightly grease a large baking tray with oil. Place buns in the tray, cut side down, about 1cm apart. Cover and set aside for 30 minutes to rise. Brush lightly with beaten egg and sprinkle with parmesan. Bake 18-20 minutes or until cooked through. Cool on a wire rack.
Serve warm or at room temperature

Note:

The dough can be prepared the day before and refrigerated. Allow to come back to room temperature before cooking. Scrolls can be frozen in an airtight container or bag and reheated from frozen. Substitute or add extra filling ingredients, such as prosciutto, caramelised onions, roasted capsicum, eggplant, pumpkin, fresh or dried herbs or ground nutmeg.