Jalna
Breakfast
Yoghurt Sourdough Starter and Sourdough Loaf
30 minutes
Preparation Time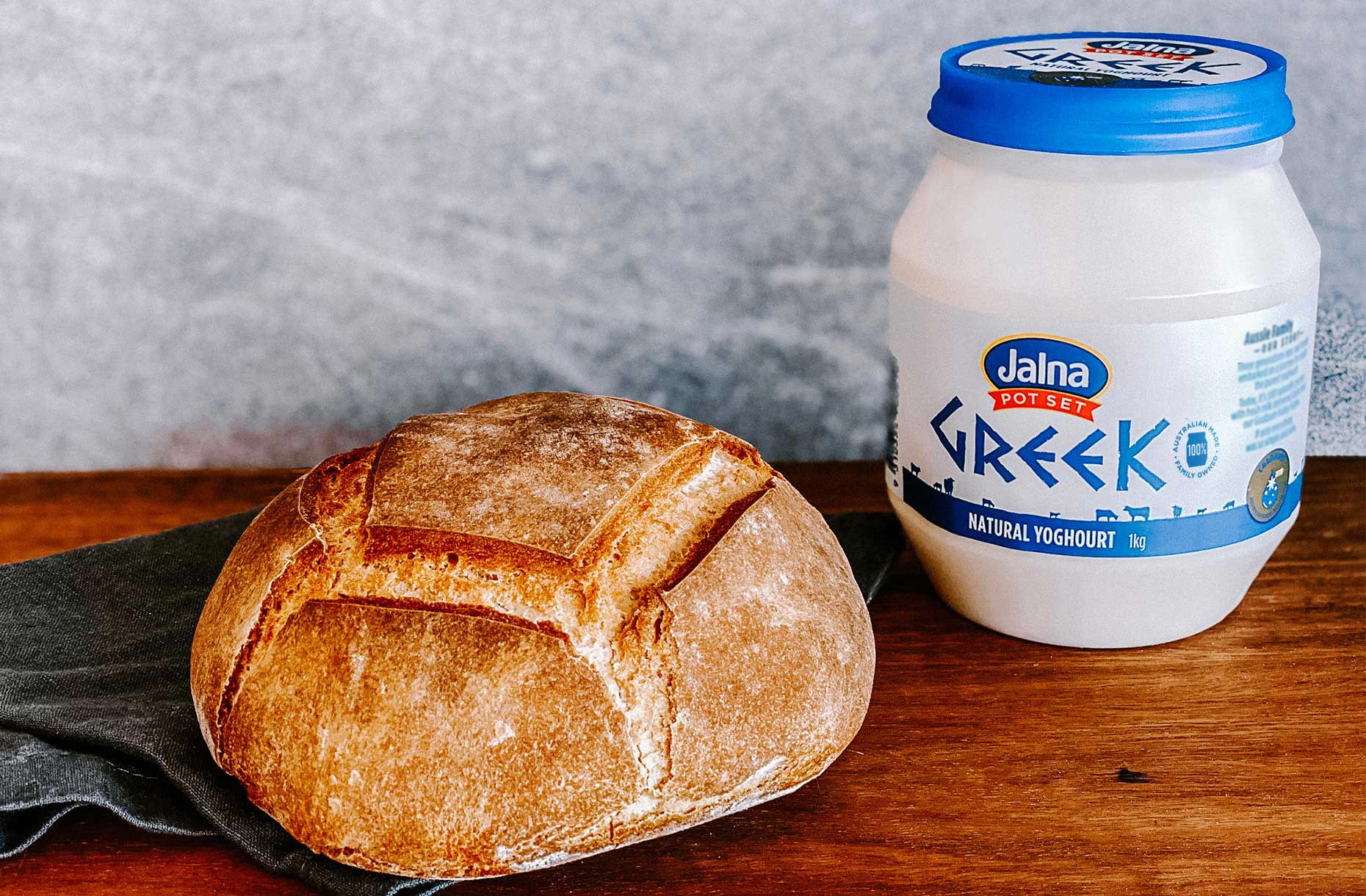 Ingredients
Sourdough Starter

Day 1 - 75g Jalna Greek Yoghurt and 175g Water
Day 2 - 120g Bread Flour
Day 4 - 180g Bread Flour, 100g Water and 40g Milk
Day 5 - 150g Bread Flour and 150g Water
Sourdough Loaf
½ cup Activated Sour Dough starter
1 cup warm water
3 cups bread flour
Pinch of Sea Salt
NB: You can just use plain flour but Bread Flour works best
Method
Starter

Combine the yoghurt and water in a sterilised jar. Leave on your kitchen bench for 24 hours.
Add the bread flour and mix together with the yoghurt solution. Leave on the kitchen bench for 48 hours.
Mix together the bread flour, water and milk , add to the starter base. Leave on the kitchen bench for 24 hours.
Add the flour and water to the starter base and mix together. Leave on the bench for 24 hours.
Sourdough Loaf

The Sourdough starter is now active and ready to use. Combine the starter and water, mix together. Add to a large bowl with the flour with a pinch of salt in it. Bring the dough together into a rough ball. Cover the bowl with a tea towel and leave in a dry warm place for 30 - 45 mins until the dough doubles.
Fold the sour dough and gently knead in to a ball shape it into a round bowl. Placed the dough ball onto a tray lined with baking paper and a dusting of flour. Cover again with the towel and leave in a dry warm place until the dough ball doubles in size.
In an oven heated to 250C place a Dutch oven. Pre heat the Dutch oven for 30 mins. Once the dough has doubled remove the pot from the oven and lift off the lid carefully. Pick up the bread using the baking paper and lower the bread and baking paper into the Dutch oven, place the lid back onto the pot and add to the oven, cook for 30 minutes.
After 30 minutes remove the lid from the pot and cook for a further 30 minutes until the crust is golden brown. Remove from the oven and carefully lift out the bread loaf.
Tap the base of the sour dough and if it sounds hollow it'll be ready. Leave on the bench to full cool down fully then slice and serve.