Jalna
Dinner
3 Cheese Broccoli Flatbread Pizza
10 minutes
Preparation Time
2 large or 4 small pizzas
Servings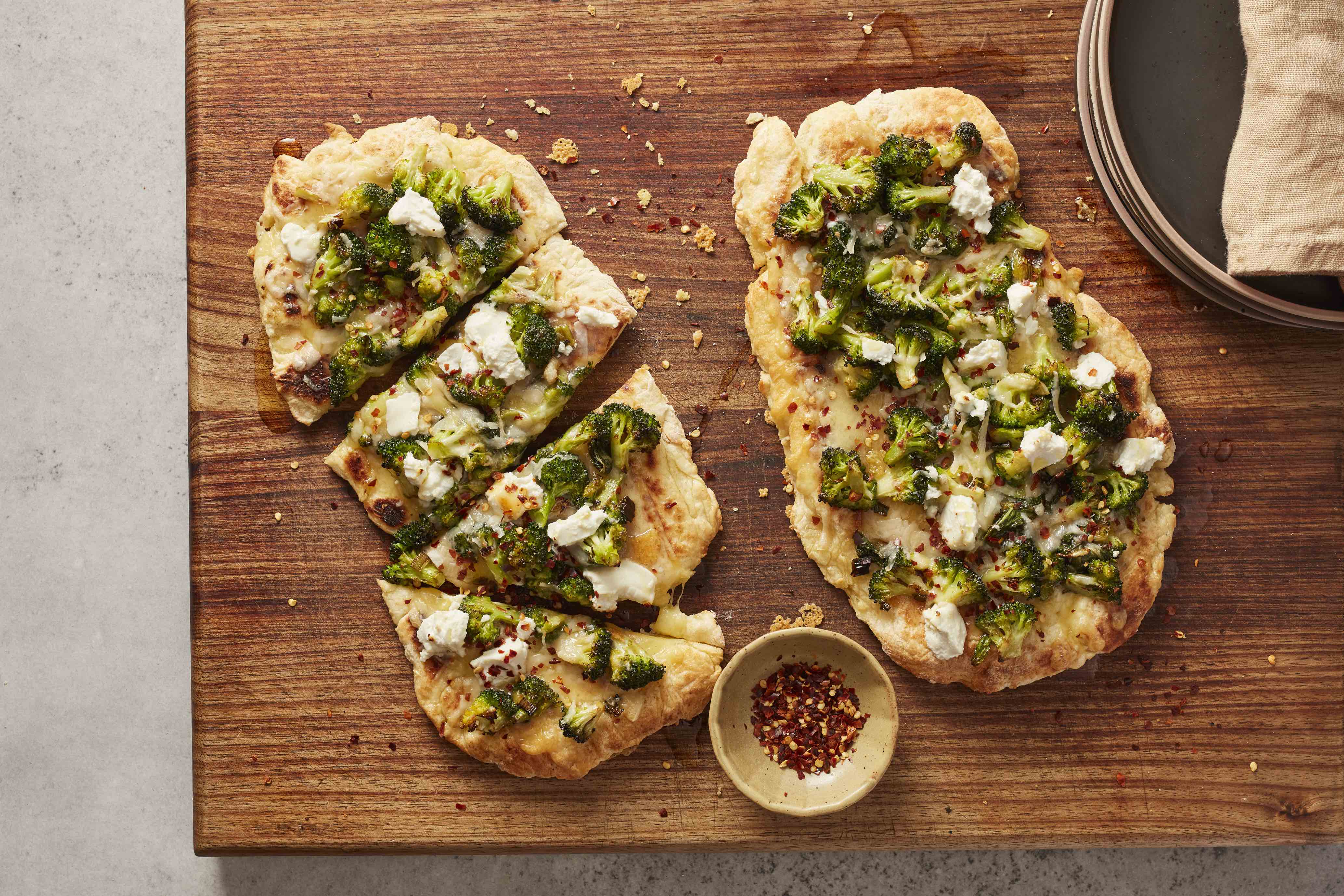 Ingredients
Pizza Base

1 teaspoon sea salt
1 & 2/3 cups Jalna Greek yoghurt
2 cups Self-raising flour
Topping
1 tablespoon extra virgin olive oil, plus extra for brushing
2 green spring onions, finely sliced
2 cloves garlic
4 cups broccoli florets, finely chopped
Sea salt and cracked black pepper to taste
¼ cup thickened cream
½ cup fresh basil, chopped
1 cup cheddar cheese, grated
½ cup Parmesan cheese, grated
½ cup feta cheese, crumbled
1 teaspoon dried chili flakes
Method
Pre heat the oven to 220 degrees C.
Mix the flour, salt and yoghurt together in a large bowl until it forms a smooth dough. Divide the mixture onto 2 or 4 equal portions and roll into round balls. Flour a clean work surface and roll each ball of dough into a rough rectangle, around ¾ cm thick with a rolling pin.
Heat a large non-stick frying pan or grill plate to a medium/high heat and place one of the circles of dough into the dry pan. Cook for 2-3 minutes, or until the dough starts to bubble and becomes golden brown. Flip over and cook for a further 2 minutes on the second side, or until cooked through. Repeat with the other 3 circles of dough.
Place the cooked flatbread onto oven trays and brush with oil.
Heat the oil a non-stick frying pan over a medium heat. Add the spring onion, garlic and a pinch of salt and pepper and cook for 1-2 minutes. Add in the broccoli and cook for 1 minute before adding in the cream and basil leaves. Cook for 1-2 minutes to slightly reduce the cream. Spread half the cheddar cheese onto the base of the flatbreads. Top with the broccoli mixture and scatter with the remaining cheddar, Parmesan and feta cheese.
Bake the pizzas in the oven for 10-15 minutes, or until the cheese has melted and the pizzas are fragrant. Remove from the oven and scatter over the dried chili flakes and slice into wedges before serving.