Jalna
Dinner
Loaded Dill & Lemon Yoghurt Tzatziki
15 minutes
Preparation Time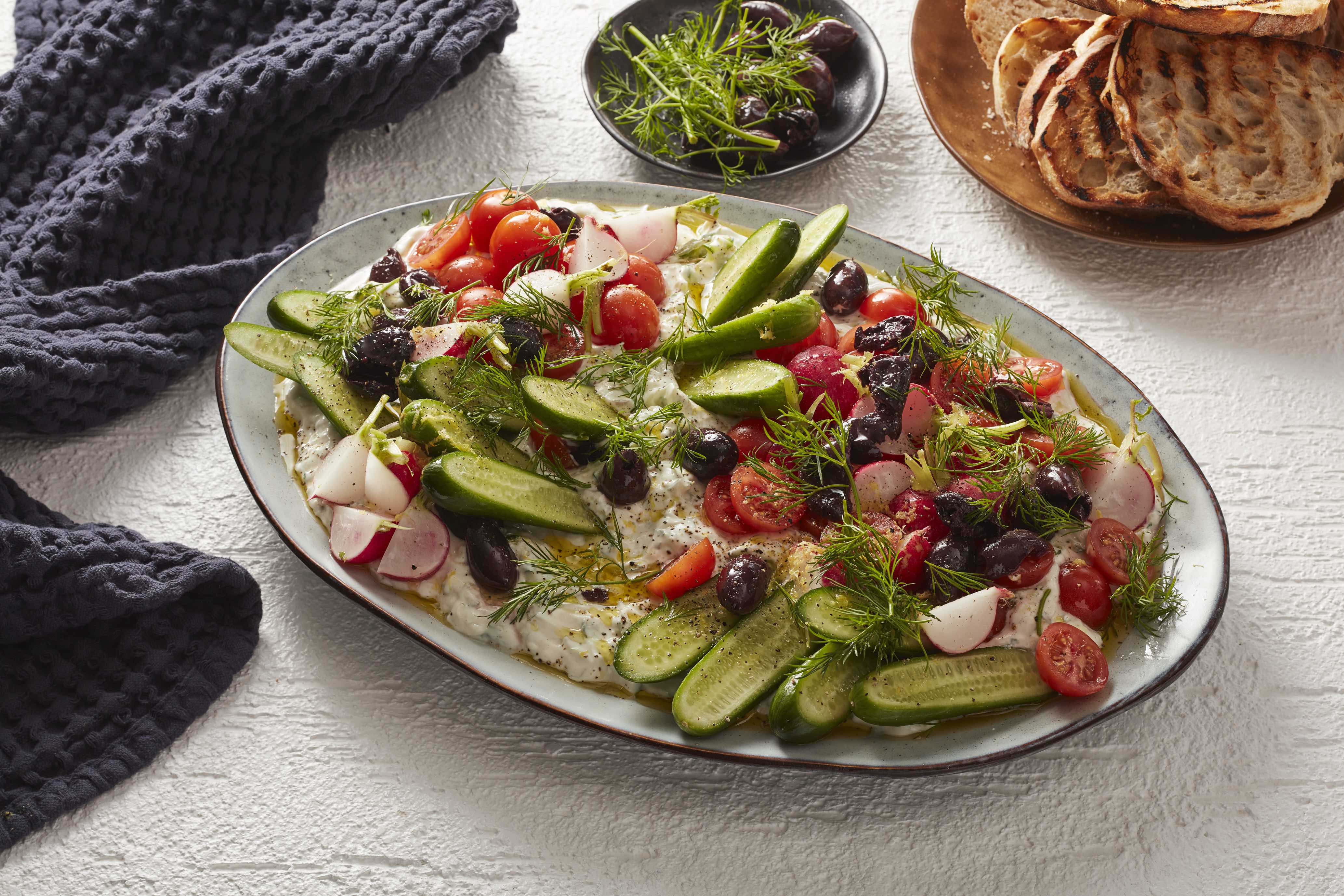 Ingredients
1kg Jalna Greek Yoghurt
1 large Lebanese cucumber
Sea salt flakes & Black pepper to season
1 small clove garlic, finely grated
1 tablespoon lemon juice, plus Zest to garnish
1 tablespoon honey
¼ bunch dill, chopped, plus extra sprigs to serve
6 slices grilled Sourdough bread to serve
Toppings
4 baby cucumbers, sliced
5 red radish, quartered
10 cherry tomatoes, sliced
15 large black pitted kalamata olives, torn
1 tablespoon squeaky gate extra virgin olive oil
Method
Place a clean muslin cloth inside a sieve and place over a large bowl. Pour the yoghurt into the cloth and set aside in the fridge for 4 hours to strain the liquid from the yoghurt. Discard the whey and place the thick yoghurt into a mixing bowl.
Grate the Lebanese cucumber into a separate bowl and season with salt. Squeeze the liquid from the grated cucumber and place the pulp in with the yoghurt (discard the water). Add in the garlic, lemon juice, honey and dill into the yoghurt and mix well.
Place the tzatziki into a large serving bowl and scatter over sliced baby cucumbers, radish, tomatoes, olives, lemon zest, dill, cracked black pepper and drizzle with extra virgin olive oil. Serve with warm Sourdough bread.