Jalna
Dinner
Roast Beetroot Salad with Sesame Yoghurt
15 minutes
Preparation Time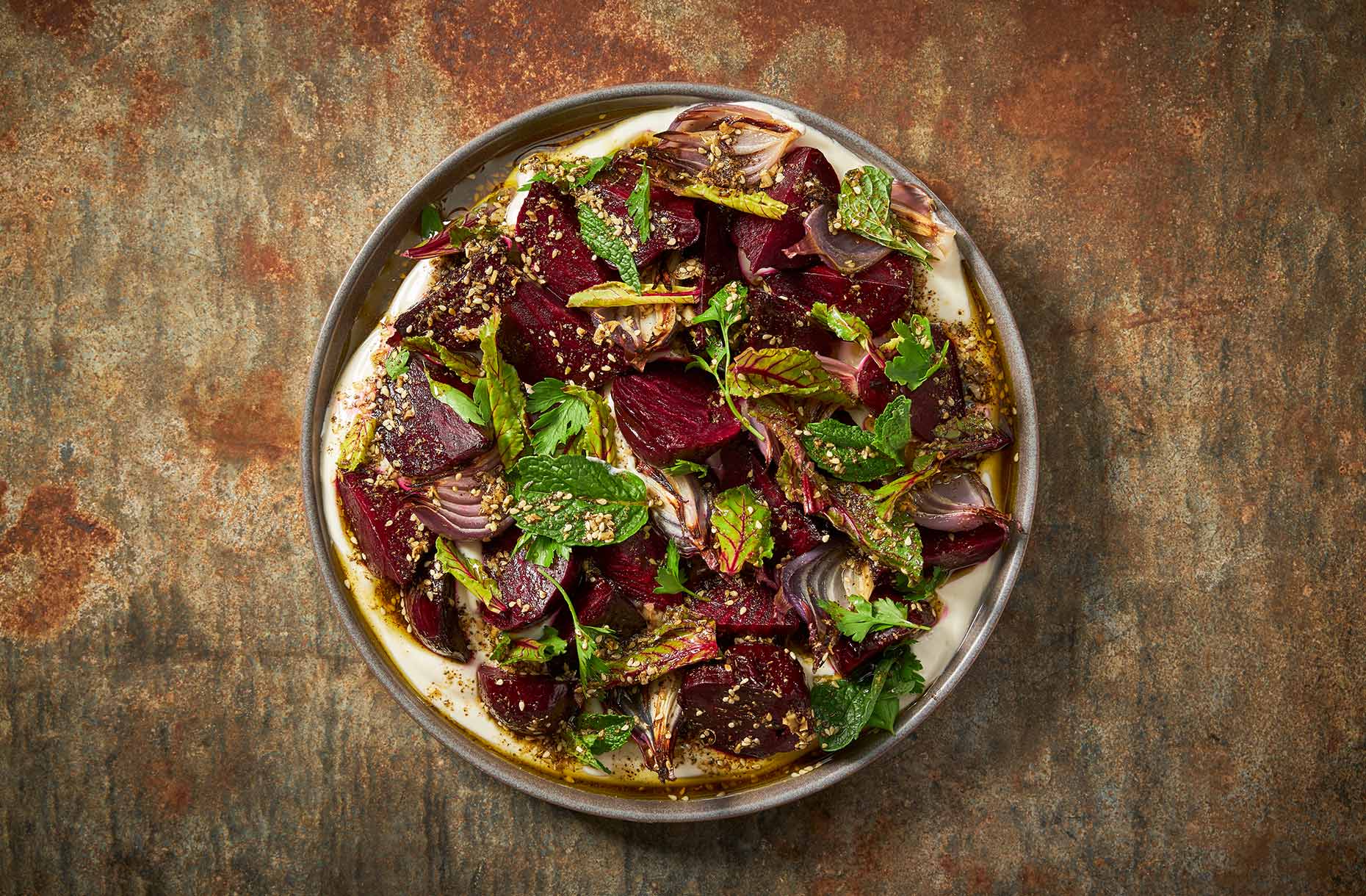 Ingredients
5 medium beetroot, or a whole bunch
2 medium-large red onions, skins left on
sea salt, to taste
½ cup (125ml) extra virgin olive oil
1 tsp za`atar
1 large clove garlic, peeled
2 cups Jalna Greek yoghurt
2 tsp tahini paste
2 tsp lemon juice
1 tbs honey
½ cup flat leaf parsley or round mint, picked
1 punnet micro red sorrel or cress
Method
Pre-heat the oven to 200 degrees (C). Cut the beetroot in half then place them into a small high-sided roasting tray. Drizzle with extra virgin olive oil, a pinch of salt and pour over 1 ½ cups of water. Cut each onion into 6 wedges, leaving the skin attached. Place the onions on a separate roasting tray, season with salt and drizzle with a drizzle of extra virgin olive oil. Cover the beetroot tray tightly with foil and roast with the onions for 35 - 40 minutes, or until the beetroots are tender and the onions are slightly charred on top.
Meanwhile, pour the extra virgin olive oil and garlic into a small pot over a low heat. Stir in the za`atar and a pinch of salt and leave to gently infuse for 5 minutes, or until the oil is fragrant.
Whisk the yoghurt, tahini, lemon juice, honey and a pinch of salt in a bowl until smooth. Spread the yoghurt onto the base of a serving platter.
Remove the beetroot from the oven and once cool enough to handle, slip the skins off and cut beetroot into wedges. Remove the skins from the outside of the onions.
Arrange the beetroot, onions and parsley on top of the yoghurt. Spoon over the za`atar oil and garnish with micro herbs.