Jalna
Dinner
Roasted Cauliflower & Brussels Sprout Salad with Tahini Yoghurt Dressing
15 minutes
Preparation Time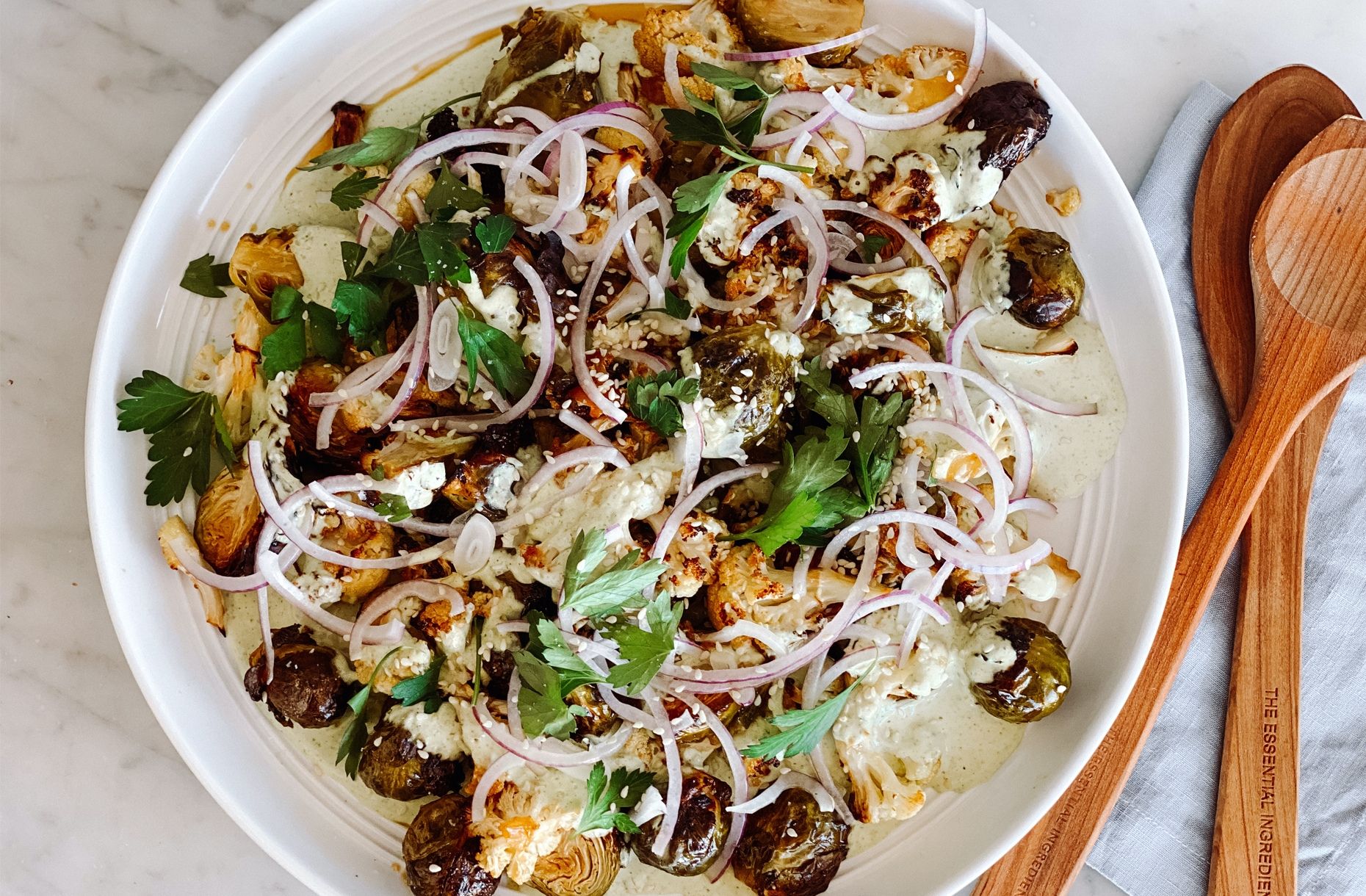 Ingredients
Salad

½ a Cauliflower, broken into chunks the same size as the Brussels
500g Brussels Sprouts, cut in half lengthways
2tbs pomegranate molasses
2tbs olive oil
Sea Salt
Dressing
1 Red Onion, sliced thinly
½ cup apple cider vinegar
2tbs sugar
1 cup Greek Yoghurt
2tbs Tahini
1tsp cumin
1tsp sumac
½ Bunch parsley, leaves picked
1 lemon
Toasted Sesame seeds
Sea Salt
Method
Pre heat an oven to 190deg C.
Combine the cauliflower and sprouts in a bowl, drizzle with pomegranate molasses, olive oil and season with salt. Mix until everything is evenly coated. Spread out on an oven tray, place in the oven and roast until the vegetables are caramelised on the outside and just cooked through.
Heat a sauce pan with the vinegar, sugar, a pinch of salt and ¼ cup of water until I boils. Place the sliced onion in a bowl and pure over the boiling vinegar liquid. Leave to pickle for 10 -15 minutes.
In a jug combine the yoghurt, tahini, cumin, sumac, parsley leaves, lemon and a pinch of salt. Blend with a stick blender until the dressing is smooth.
To serve spread most of the yoghurt on the base of a platter. Add the roasted cauliflower and Brussel sprouts. Drizzle over the rest of the dressing then top with the pickled onions, extra parsley leaves and sesame seeds. Yum!