Jalna
Dinner
Roasted Heirloom Carrots with Labne & Pesto
40 minutes
Preparation Time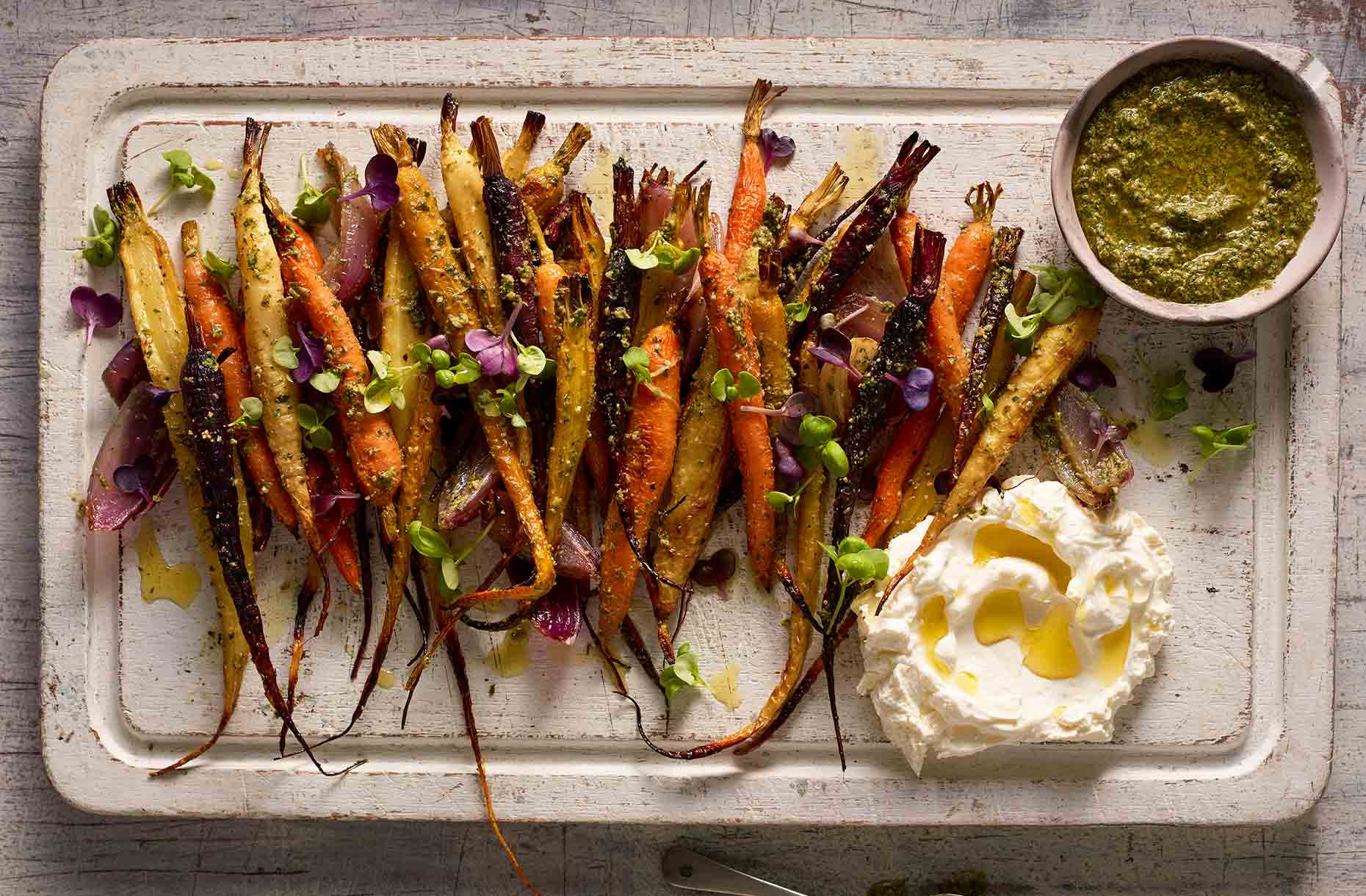 Ingredients
1 cup (250g) Jalna Biodynamic Organic Yoghurt (makes about 125g labne)
50g mixed seeds (eg.sunflower & pepita)
1 teaspoon coriander seeds
3 bunches coloured heirloom carrots, tops attached, well washed
2 red onions, peeled, cut into wedges
1 tablespoon olive oil
Salt flakes & cracked black pepper
1 handful of basil leaves
2 garlic cloves, peeled
1 tablespoon honey or rice malt syrup
3 teaspoons lemon juice, plus extra
50g parmesan, finely grated
1/4 cup (60g) Jalna Biodynamic Organic Whole Milk Yoghurt
Micro herbs to serve (optional)
Method
Overnight Labne

Make labne by draining yoghurt overnight in a strainer lined with muslin cloth, a tea towel or Chux over a large bowl. Reserve whey for other recipes (see notes).
Carrots & Pesto

Preheat oven to 210°C/190°C fan forced. Toast the mixed seeds and coriander seeds in a dry frying pan until fragrant and lightly coloured. Set aside to cool.
Cut the green tops off the carrots leaving a 2cm stalk on each one. Reserve a generous cup of carrot leaves from the carrot tops, discarding the stalks. Large carrots could be cut in half lengthways, to even out the cooking time. Toss the carrots and onion in oil, season and bake for 15-25 minutes (depending on size), until tender and golden.
Meanwhile, make the pesto. Puree the carrot tops, basil, garlic, mixed seeds, coriander seeds, honey and lemon juice, until the mixture forms a paste. Add the parmesan and Jalna yoghurt and puree briefly until combined. Add extra yoghurt, olive oil or water if a thinner consistency is preferred. Toss some pesto with carrots and onion, with extra lemon juice, salt and pepper, to taste. Serve on a platter with labne and extra pesto on the side. Serves 4 as a side dish.

Note:

Substitute mixed seeds with nuts (eg. almonds, cashews, pine nuts); add rocket or other herbs (eg. mint, parsley). Whey, the liquid left after making labne, can be used to soak and culture grains and legumes which makes the nutrients more bioavailable, or use whey in soups, dressing and drinks. Whey can be refrigerated for 1-2 weeks or freeze.