Jalna
Dinner
Spiced Yoghurt Soup with Curry Yoghurt Dressing
10 minutes
Preparation Time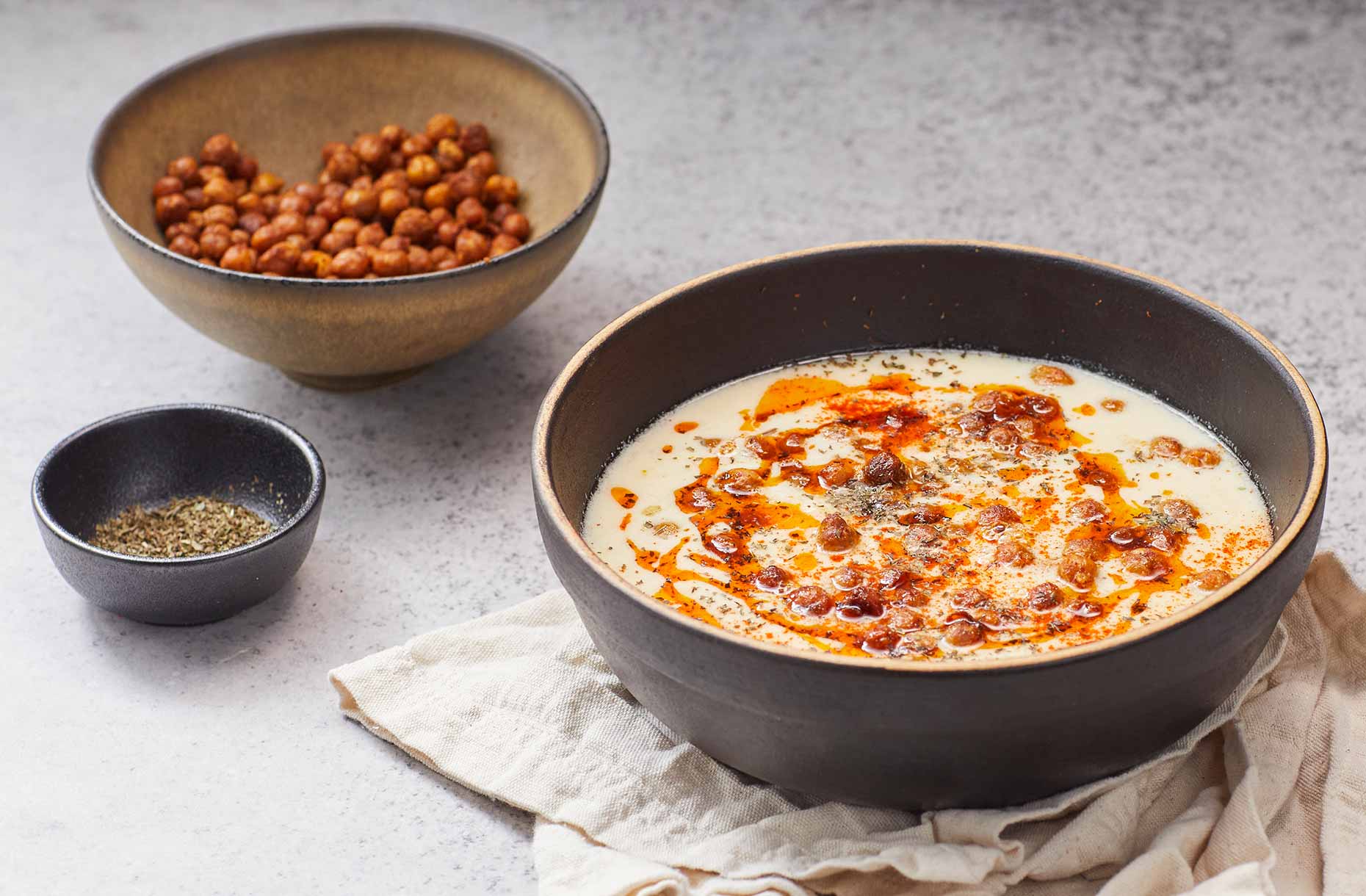 Ingredients
Roasted Chickpeas

1 tin chickpeas
1 tsp smoked paprika
1 tsp cumin
1 tsp sea salt
1 tbsp extra virgin olive oil
Soup
1 cup Jalna Greek yoghurt
1 pack 90 second white basmati rice
1 ltr real chicken stock
2 egg yolks
1 tbsp plain flour
pinch salt
Burnt Butter
100g butter
1 tbsp dried mint
1 tsp Coles smoked paprika
sea salt
⅛ lemon wedge
Method
In a roasting tray combine the roasted chickpeas ingredients, mix until all the chickpeas are coated. Place into the oven and roast until crispy and golden brown.
In a saucepan on medium to high heat, combine the rice and stock, bring to the boil and boil for 2 minutes then reduce to a simmer.
In a bowl mix together the egg yolk, yoghurt, flour and salt, keep mixing until it is mixed into a smooth paste.
Take a couple of ladles of the stock and whisk into the yoghurt mixture until smooth. Slowly pour the yoghurt mixture into the pot of stock and rice, and keep mixing until combined. Now simmer the soup for 10 minutes stirring occasionally until it thickens up.
In a small saucepan over a medium heat, melt and brown the butter - add a small squeeze of the lemon to stop the butter from bubbling and overflowing. Once brown, add the mint, paprika and salt. Fry for 30 seconds then pour over the top of the soup. This will float on top of the soup.
To serve, sprinkle some roasted chickpeas on top followed by a small sprinkle of paprika and mint.