Jalna
Dinner
Tzatziki Potato Salad
15 minutes
Preparation Time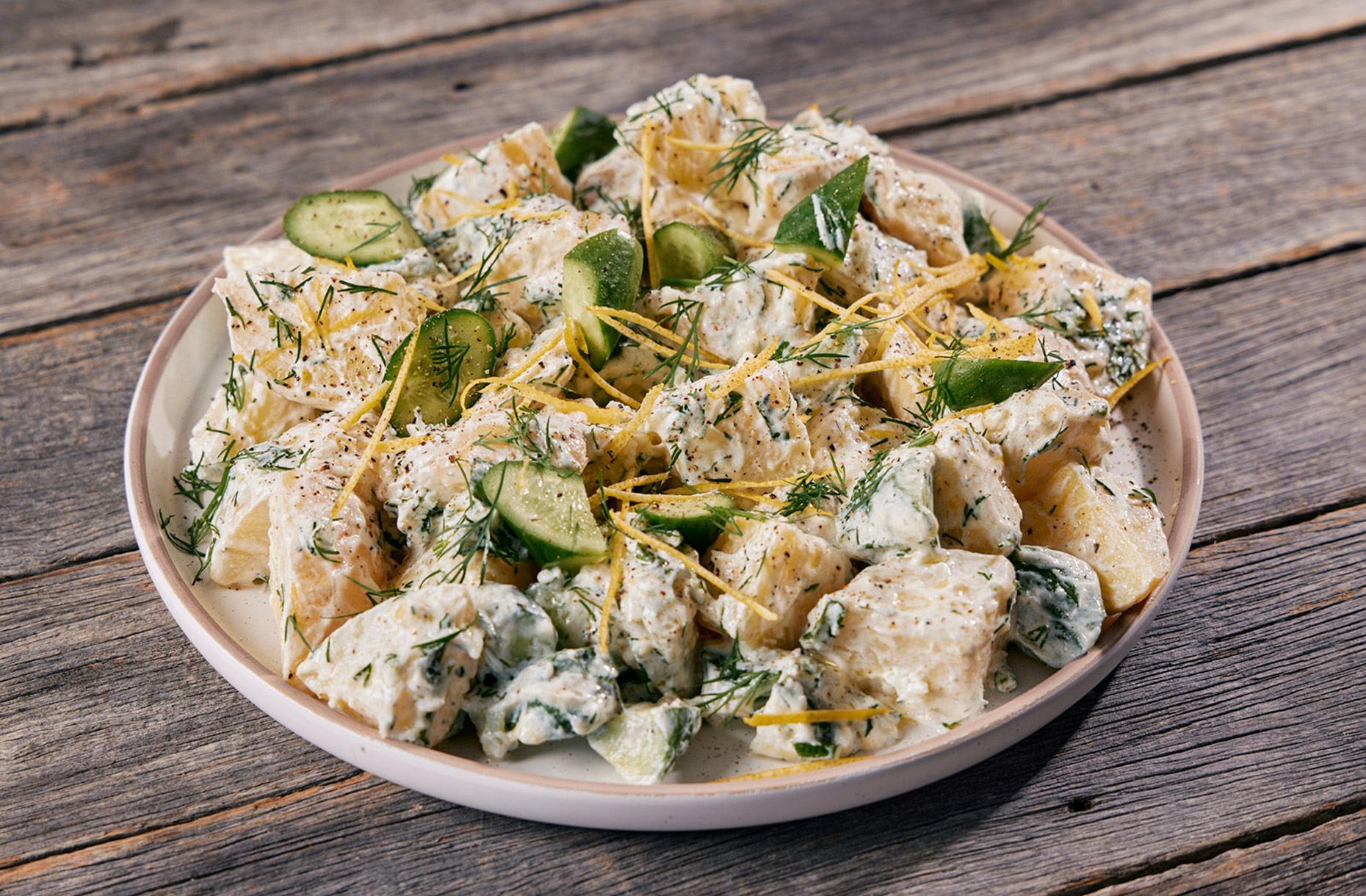 Ingredients
800 g new potatoes
Sea salt & Black pepper
1 punnet baby cucumbers (qukes)
sliced 2 cloves garlic finely chopped
2 tbsp extra virgin olive oil, plus extra to serve
Zest and juice of ½ lemon
2 tsp maple syrup
1 cup Jalna Greek yoghurt
½ cup mint, roughly torn
1/3 cup dill, roughly chopped, plus extra to serve
Method
Cut the potatoes into rough 3cm chunks, making sure they are all roughly the same size. Place the potatoes into a pot over medium-high heat and cover with water. Season with salt, then bring it up to a simmer and cook for 12-14 minutes, or until tender. Drain and set aside to cool slightly.
Place the garlic into a medium-sized heat-proof bowl. Heat the oil in a small pot and pour it over the garlic so it bubbles and infuses. Peel some strips from the lemon and set them aside. Squeeze the lemon juice into the bowl with the garlic, then add in the maple syrup, yoghurt, parsley, dill, and a pinch of salt and pepper. Mix well to combine.
Place the potatoes and half of the cucumbers in a bowl, then toss them with the yoghurt dressing to coat. Finely cut the lemon strips into fine matchsticks.
Place the potato mixture onto a serving platter, then top it with the remaining cucumbers, dill fronds, lemon zest, cracked pepper, and a drizzle of extra virgin olive oil.