Jalna
Dips
Rainbow Vegetable Chips with Harissa Yoghurt Dip
30 minutes
Preparation Time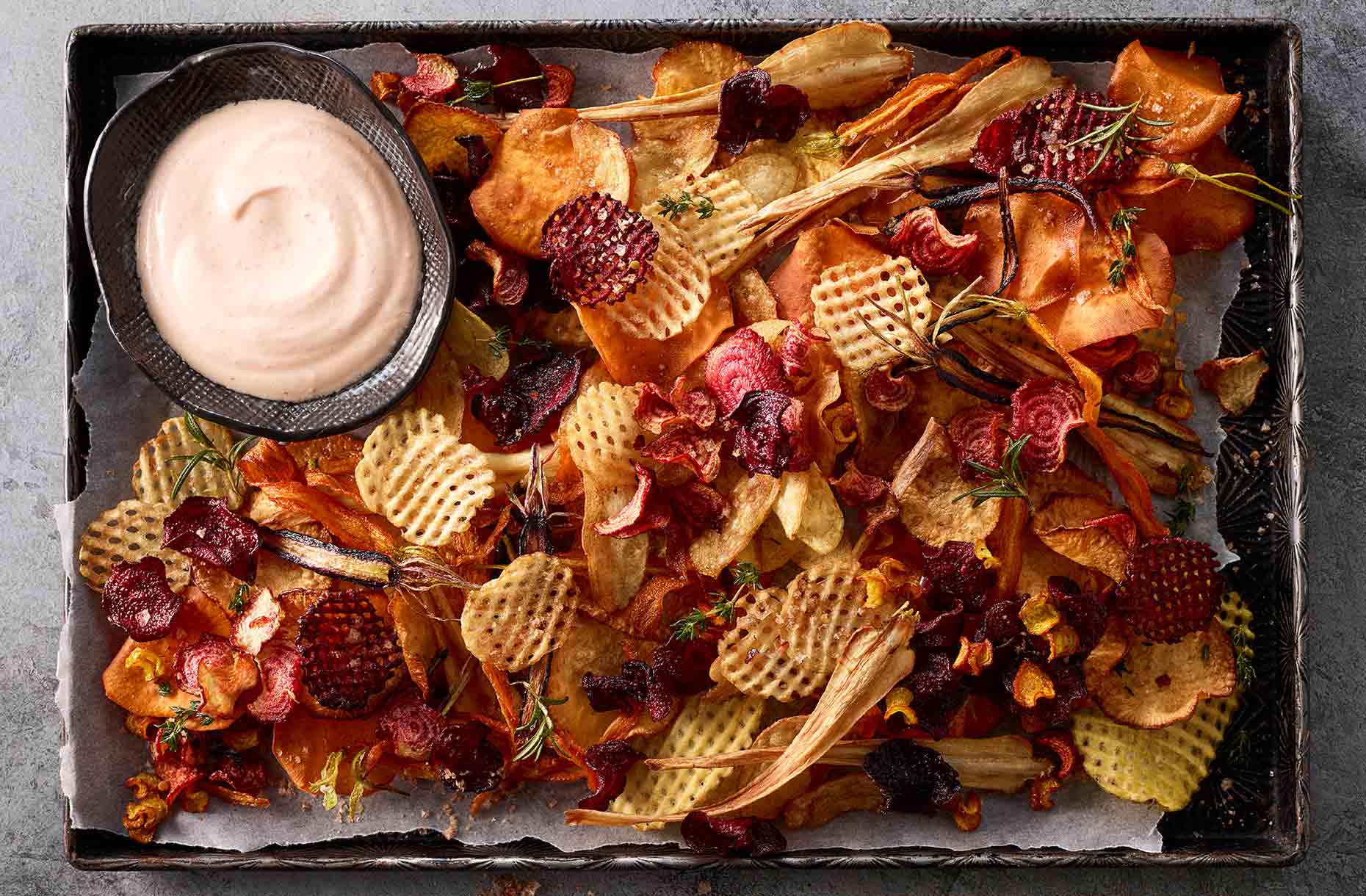 Ingredients
1 medium parsnip
1 medium swede
1 medium beetroot
1 medium sweet potato
1 medium potato
1/4 cup (60ml) coconut or olive oil
Zest of 1/2 orange
1/4 cup (60ml) fresh orange juice
1 tbsp chopped thyme or rosemary
1/2 tsp sea salt
Harissa Yoghurt Dip
½ cup (125g) Jalna Greek Yoghurt
1 1/2 tsp harissa paste
2 tsp honey or rice malt syrup, or to taste
1 1/2 tbsp lemon juice
Pinch salt
Method
Preheat oven to 200°C/180°C fan forced. Line two baking trays with baking paper. Peel vegetables (optional) then, using a sharp knife or mandoline, slice all vegetables into thin, even rounds, about 2mm thick. Mix the oil, orange zest, juice, thyme and salt in a large bowl. Add the potatoes, parsnips and swedes and toss to coat well. Spread in a single layer on one baking tray. Repeat the process with the beetroot and sweet potato, placing them on the other baking tray.
Bake the beetroot and sweet potato for about 25 minutes and the potato, parsnip and swede chips for about 15 minutes, or until golden. Remove from the oven and transfer to wire racks to cool.
To make the Harissa Yoghurt:

Place all ingredients in a bowl & mix to combine. Makes approx. ⅔ cup.

Note:

Chips can be stored in an airtight container for 2-3 days, but they will lose some of their crunch. Use even-sized vegetables so the chip sizes match well. Vegetables could also be cut into wedges but increase roasting time.