Jalna
Lunch
Greek Fish Kebabs with Cucumber, Dill & Yoghurt
15 minutes
Preparation Time
2 as a meal or 4 as a snack
Servings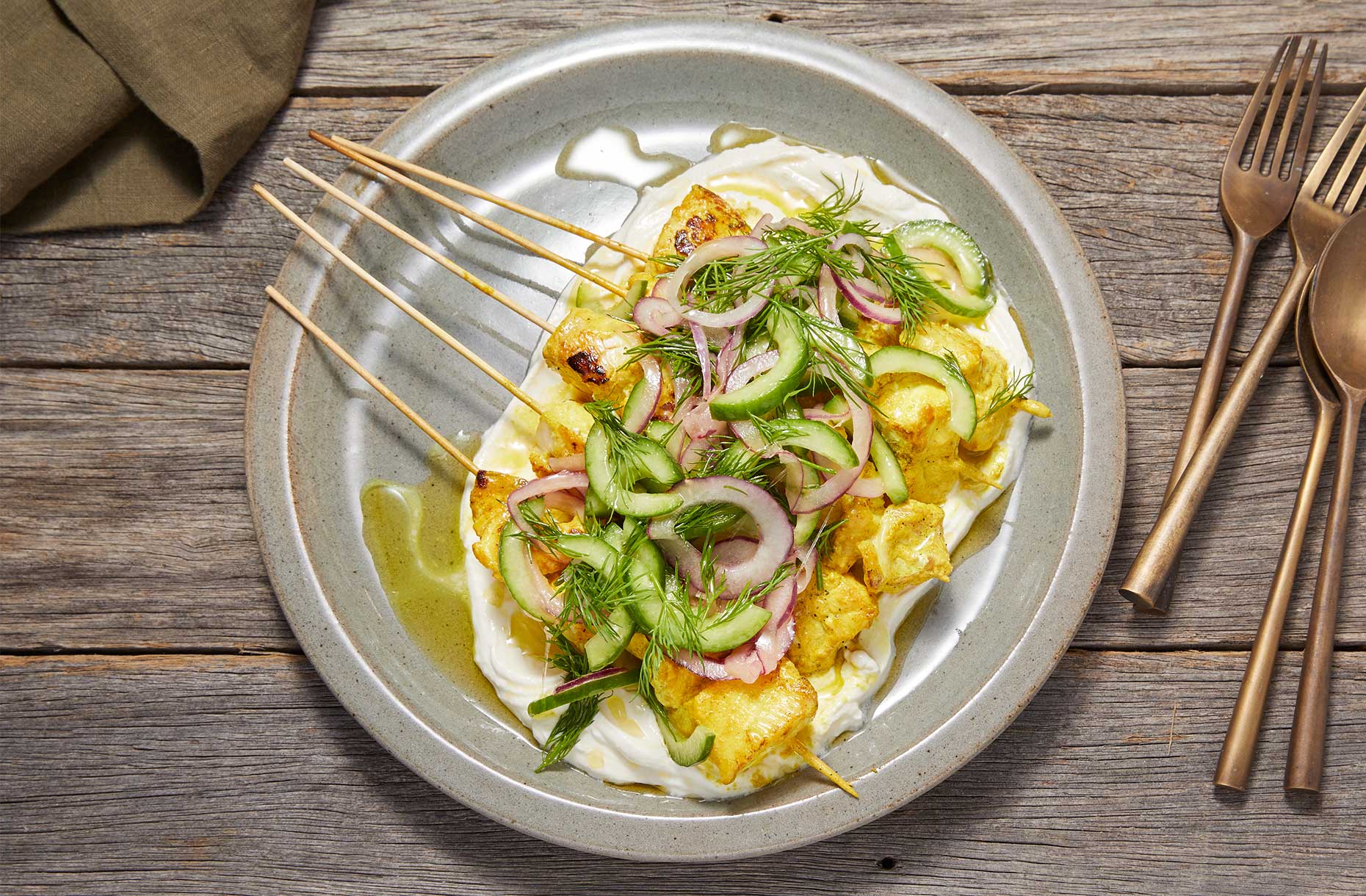 Ingredients
1 cup Jalna Greek yoghurt
1 clove garlic, minced
2 tsp honey
sea salt and pepper to taste
1 lemon
1 tsp ground cumin
1 tsp ground turmeric
3 tbsp extra virgin olive oil
600 g firm white fish such as Cod or ling, cut into 1 inch chunks
1 red onion, peeled, sliced into thin circles
1 large Lebanese cucumber, seeded, sliced into thin half moons
¼ bunch dill, sprigs picked
Method
In a large mixing bowl, combine ½ cup yoghurt, garlic, salt, pepper, lemon zest, cumin and turmeric. Stir well to combine then place the fish in the bowl and gently toss to coat the fish in the marinade. Set aside to marinade for 30 minutes.
Meanwhile, squeeze the juice of the lemon into a bowl and whisk into it the honey and a pinch of sea salt. Add the onion and cucumber to the lemon mixture and gently massage the dressing into it to soften. Set aside to lightly pickle.
Preheat a BBQ or grill pan over a medium heat. Using clean hands, thread the fish onto soaked bamboo skewers. Rub a little oil over the grill plates and cook the kebabs for 5 - 6 minutes, or until cooked through. Remove from the grill and set aside to rest for 2 minutes.
Spoon the remaining yoghurt onto the base of a serving platter and top with the fish kebabs. Toss 1 tablespoon of oil and the dill through the onion and cucumber mixture then top the kebabs with the salad. Drizzle with a little extra olive oil and cracked pepper before serving.